Get Ordained™ Blog - Page 6
Wedding planning can be tough- that's why many couples turn to a wedding planner. But if you need to forego the planner entirely, don't fret! Follow these simple tips and soon you'll be planning like a pro.
Category: Wedding Planning
If you live in an area where natural disasters are common, then you do run the risk of a disaster threatening your big day. Avoid heartbreak with proper preparation and by purchasing wedding insurance.
Category: Wedding Planning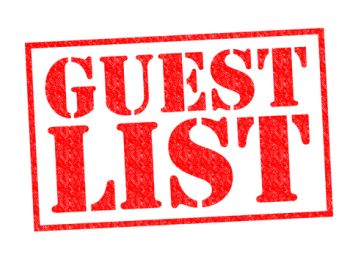 Getting married? Compiling your wedding guest list can be a lot of fun- or cause a lot of headaches. If you're having trouble dialing in the guest list, consider these ideas on how to make those hard cuts.
Category: Wedding Planning
Wedding planning is all fun and games until you get the bill and your jaw drops. Iron out your wedding budget in advance and avoid accidentally overspending with these wonderful money-saving tips and tricks.
Category: Wedding Planning
Earlier this year, Tennessee sought to prevent ministers ordained online from performing wedding ceremonies. Now the Universal Life Church is suing the state to ensure their ministers' rights are upheld.
Category: Marriage
If you've never been to a baptism, you may not know whether to bring a gift. With gifting common at many baptisms, there is also etiquette to be followed. Here are some tips for proper gift etiquette at baptisms.
Category: Baptism
When you're planning your wedding, one of the most important decisions you will make is the wedding venue. From location to guest count to indoors or outdoors, there are a variety of factors to consider as well. 
Category: Wedding Planning
Getting married? You and your partner will need to decide on the perfect song for your first dance together, so make sure it's one you both love. Look through your music collections for sonic inspiration.
Category: Wedding Planning
Are you planning a wedding? Finding out your wedding's color palette is an important part of the planning a process. Here are some easy ways to discover your wedding colors if you need a little guidance.
Category: Wedding Planning
If you're planning a wedding, you may be feeling overwhelmed by all the little details. From remembering the license to having extra seats, here are a few of the most common little details that nearlyweds nearly forget.
Category: Wedding Planning