Posts Tagged: wedding day
Do you want your wedding reception to stand out from the crowd? One way couples are getting creative (and caffeinated) is with coffee bars. Check out how to pull off this hot new trend at your own wedding reception.
Category: Wedding Materials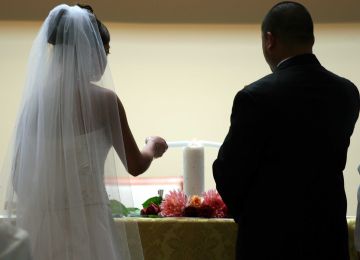 There are many fun, beautiful and symbolic folk wedding traditions you may consider incorporating into your wedding. In fact, there are countless cultural traditions out there- Here are a few of the most common. 
Category: Wedding Materials Wedding Planning
If you're performing a wedding ceremony for the first time, you may have some nerves. But fear not! We've got some suggestions on how to calm your nerves, conquer your nerves, and nail the performance.
Category: Perform a Wedding
Across the country, budget-conscious couples are turning to micro weddings for their big day. In fact, these intimate events have been gaining in popularity for years and years. Is a micro wedding right for you?
Category: Wedding Planning
Your wedding day is a celebration of you and your partner's love. But you will want to keep the comfort and happiness of your wedding guests in mind too. Here are a few ways to make sure they leave pleased as punch!
Category: Wedding Planning
Makeup isn't just for ladies anymore! More and more grooms are looking their glowing best by utilizing wedding day makeup. If you're a groom-to-be who wants to be radiant on your wedding day, check out these tips.
Category: Wedding Planning
Planning a wedding is a costly affair, no doubt about it. When you're setting your wedding budget, make sure to set aside enough to pay all of your vendors. And yes, that includes your wedding photographer!
Category: Wedding Materials
Many couples love the idea of an open bar at their wedding, but worry about the expense. If you're worried about the cost of such a luxury, follow these tips and you can have your booze and drink it too!
Category: Wedding Planning
There are many negative assumptions about destination weddings. However, there are tons of benefits to having your special day in an exotic location! The truth about destination weddings just might surprise you.
Category: Wedding Planning
One of the most important parts of your wedding is the venue. But with multiple vendors and hours of prep work, getting your venue set up perfectly might seem daunting. Consider these tips to keep organized.
Category: Wedding Planning