Posts Tagged: wedding day
If you live in an area where natural disasters are common, then you do run the risk of a disaster threatening your big day. Avoid heartbreak with proper preparation and by purchasing wedding insurance.
Category: Wedding Planning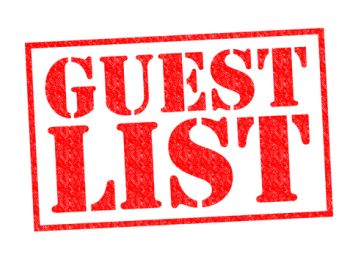 Getting married? Compiling your wedding guest list can be a lot of fun- or cause a lot of headaches. If you're having trouble dialing in the guest list, consider these ideas on how to make those hard cuts.
Category: Wedding Planning
Getting married? You and your partner will need to decide on the perfect song for your first dance together, so make sure it's one you both love. Look through your music collections for sonic inspiration.
Category: Wedding Planning
Are you planning a wedding? Finding out your wedding's color palette is an important part of the planning a process. Here are some easy ways to discover your wedding colors if you need a little guidance.
Category: Wedding Planning
If you're planning a wedding, you may be feeling overwhelmed by all the little details. From remembering the license to having extra seats, here are a few of the most common little details that nearlyweds nearly forget.
Category: Wedding Planning
When planning your wedding, one of the first things you'll need to iron out is your wedding lighting. If the world of proper wedding lighting seems daunting to you, take a look at these easy lighting tips.
Category: Wedding Materials
There are many benefits to having a summer wedding. From brighter wedding colors to great weather, there's a reason most couples hold their big day in our warmest season. Take a look at those and other pluses here.
Category: Wedding Planning
Many grooms put a lot of thought into how their suit or hair looks- but not much into their skin. Don't overlook proper skin care; you'll need to take great care of your skin if you want to look your best at the wedding.
Category: Society
Holding a unity ceremony at your wedding is an increasingly common ritual in modern weddings. Jointly lighting a unity candle is a great way for couples to symbolize their union and the beginning of their marriage.
Category: Wedding Materials
Do you want your skin to glow in your wedding photos? Who doesn't! This guide will help you get a proper wedding skincare regimen so that you'll positively glow on your big day and in your wedding photos. 
Category: Wedding Planning