Posts Tagged: wedding attire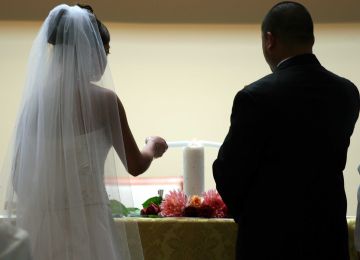 There are many fun, beautiful and symbolic folk wedding traditions you may consider incorporating into your wedding. In fact, there are countless cultural traditions out there- Here are a few of the most common. 
Category: Wedding Materials Wedding Planning
When you think of common wedding problems, you probably think of issues that affect the bride. But what you may not know is that there are a ton of groom-specific issues too. Here are a few of the most common.
Category: Wedding Planning
Custom wedding themes are becoming all the rage- and for good reason. If you're looking for a unique theme for your special day, consider some of these fun and exciting ideas that are sure to be crowd pleasers.
Category: Ceremonies
Makeup isn't just for ladies anymore! More and more grooms are looking their glowing best by utilizing wedding day makeup. If you're a groom-to-be who wants to be radiant on your wedding day, check out these tips.
Category: Wedding Planning
Your engagement ring is likely to be one of your most prized possessions. You'll probably want to wear it everywhere. However, there are times you should forego the ring in order to keep it safely out of harm's way.
Category: Engagement
An oft-overlooked part of getting married is the effect on your income tax. Can you claim a deduction for wedding expenses? Are cash gifts taxable? Know how your wedding will impact your tax liability to avoid surprises.
Category: Wedding Planning
While guests never fail to fawn over the bride's dress, the groom's outfit is just as important. By following these style tips you'll ensure that your suit looks great, fits right, and complements your spouse's ensemble.
Category: Wedding Planning Marriage
Planning for your big day can definitely take a lot out of you. With so many different tasks to complete before the date of your wedding arrives, it can be easy to feel like you're forgetting one or two things. Unf ...
Category: Wedding Planning
By now, you've probably heard tons of fashion "rules" when it comes to selecting attire for your nuptials. While some of these guidelines are meant to guarantee a great look, you've got some creat ...
Category: Wedding Materials Wedding Planning