Wedding Materials Articles
When planning your wedding, one of the first things you'll need to iron out is your wedding lighting. If the world of proper wedding lighting seems daunting to you, take a look at these easy lighting tips.
Category: Wedding Materials
Boutonnieres are a fun and easy way to add a lot of flair to a wedding outfit. But from size to styling, boutonnieres can cause a lot of head-scratching. Here are some tips to nail the boutonniere look.
Category: Wedding Materials
Nowadays it seems like having a wedding website is the standard operating procedure for engaged couples. Notably, wedding websites let your guests RSVP digitally! Here are some tips for setting up your own wedding site.
Category: Wedding Materials
When you're planning your wedding, you might find that unforeseen wedding problems keep cropping up here and there. Here are some of the most common problems that surprise nearlywed couples in the planning process.
Category: Wedding Materials Wedding Planning
Cutting the wedding cake is one of the longest enduring and most famous wedding traditions. Planning your dessert table isn't all a cakewalk, though. Take a look at this helpful guide for all things wedding cake.
Category: Wedding Materials
Holding a unity ceremony at your wedding is an increasingly common ritual in modern weddings. Jointly lighting a unity candle is a great way for couples to symbolize their union and the beginning of their marriage.
Category: Wedding Materials
Dessert tables are one of the hottest new trends in the wedding world. As customizing ceremonies becomes increasingly popular, many couples are eschewing the traditional cake for a whole dessert table.
Category: Wedding Materials
Have wedding vendor friends? You're probably considering hiring them for your wedding. While that is often a great idea, you'll want to check out this list of pros and cons to ensure you're making the right call.
Category: Wedding Materials Wedding Planning
Do you want your wedding reception to stand out from the crowd? One way couples are getting creative (and caffeinated) is with coffee bars. Check out how to pull off this hot new trend at your own wedding reception.
Category: Wedding Materials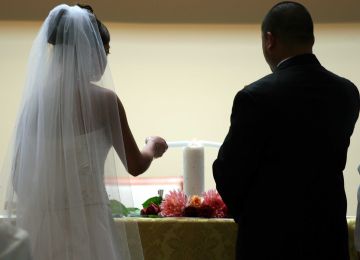 There are many fun, beautiful and symbolic folk wedding traditions you may consider incorporating into your wedding. In fact, there are countless cultural traditions out there- Here are a few of the most common. 
Category: Wedding Materials Wedding Planning