Posts Tagged: wedding guests
Your wedding budget and the number of guests you intend to invite often go hand-in-hand. If you're having trouble finding the right balance, here are some tips for juggling your guest list and your pocketbook.
Category: Wedding Planning
Putting together a wedding guest list can be difficult, particularly deciding on the ideal number of invitees and making tough cuts. Check out this guide on getting your perfect guest list, headache free.
Category: Wedding Planning
Across the country, budget-conscious couples are turning to micro weddings for their big day. In fact, these intimate events have been gaining in popularity for years and years. Is a micro wedding right for you?
Category: Wedding Planning
Is your love written in the stars? Astrology is growing in popularity in the 21st century, and with Millennials now reaching marriage age, more and more are consulting astrological experts when selecting a wedding date.
Category: Perform a Wedding
Your wedding day is a celebration of you and your partner's love. But you will want to keep the comfort and happiness of your wedding guests in mind too. Here are a few ways to make sure they leave pleased as punch!
Category: Wedding Planning
Planning your wedding menu is a lot of fun. But you'll need to keep in mind how to cater to the dietary restrictions of your guests. Having a vegetarian and vegan option available will ensure everyone is happy!
Category: Wedding Materials Wedding Planning
Many couples host a joint engagement party to celebrate their engagement with family and friends. Take a look at this guide to find out how to pull off the perfect party that will get your guests excited for the wedding.
Category: Engagement
When you get engaged, your first instinct might be to tell everyone immediately. But it may not be so black and white in professional life. Consider these tips when you're breaking the big news to your coworkers.
Category: Engagement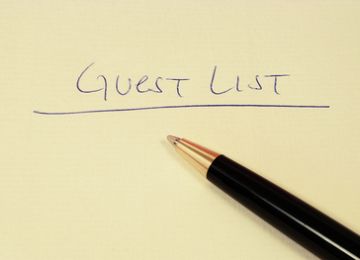 Creating a wedding guest list is one of the first tests of a couple's ability to compromise. Check out these tips for whittling down your ideal list to one that is manageable, affordable, and agreeable to both parties.
Category: Wedding Planning
Selecting your wedding party is one of the most fun and exciting parts of planning the wedding. Check out these tips for selecting the lucky and honored few who will join you up at the altar on your big day!
Category: Wedding Planning