Posts Tagged: Wedding Guests
If you're putting together a bachelor or bachelorette party, you know every little bit adds up-- quickly. No need to break the bank, here are some cost-conscious ways you can cut the budget and still have a great time.
Category: Wedding Planning
Already said 'yes' to a wedding RSVP but now need to back out? When canceling a wedding RSVP you need to communicate properly with the couple as soon as possible and make it up to them after the wedding ceremony.
Category: Ceremonies
Poems, lyrics, book passages- the options for your wedding reading are nearly endless- and endlessly daunting. Here are some tips on how to pick a wedding reading that means a lot to you and your future spouse.
Category: Wedding Planning
If you're asked to give a wedding toast, you may be wondering where to even start. When giving a wedding toast, there are a lot more don'ts than do's. Here are the topics to avoid when you're toasting to new love.
Category: Wedding Materials
Taking a look at wedding venue options? Finding your perfect wedding venue that's also within your budget and fits all your guests is tougher than it sounds. Check out this article for tips on proper venue selection.
Category: Wedding Planning
If you're looking for a fun and crowd-pleasing dessert for your wedding guests, a candy bar may be the perfect idea for you. If you want to give your guests a treat, here's how to pull off the perfect wedding candy bar.
Category: Wedding Materials
If you're setting up a wedding registry, there are some things you should know to get the most out of it. Creating the ideal registry requires more work than you might think. Here are some tips to set it up.
Category: Wedding Materials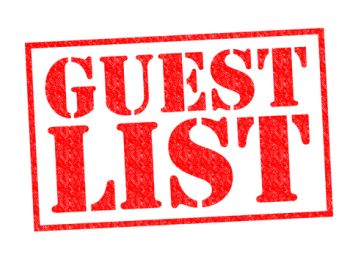 Getting married? Compiling your wedding guest list can be a lot of fun- or cause a lot of headaches. If you're having trouble dialing in the guest list, consider these ideas on how to make those hard cuts.
Category: Wedding Planning
Are you planning a wedding? Finding out your wedding's color palette is an important part of the planning a process. Here are some easy ways to discover your wedding colors if you need a little guidance.
Category: Wedding Planning
If you're planning a wedding, you may be feeling overwhelmed by all the little details. From remembering the license to having extra seats, here are a few of the most common little details that nearlyweds nearly forget.
Category: Wedding Planning