Posts Tagged: wedding invitation
Wedding trends come and go, but one that seems truly evergreen is monogrammed items. From decorations to gifts, monograms have a variety of uses. Take a look if you want to incorporate the classic design for modern use.
Category: Wedding Materials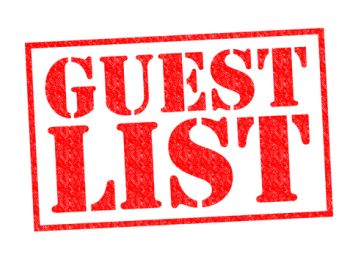 Getting married? Compiling your wedding guest list can be a lot of fun- or cause a lot of headaches. If you're having trouble dialing in the guest list, consider these ideas on how to make those hard cuts.
Category: Wedding Planning
Nowadays it seems like having a wedding website is the standard operating procedure for engaged couples. Notably, wedding websites let your guests RSVP digitally! Here are some tips for setting up your own wedding site.
Category: Wedding Materials
Putting together a wedding guest list can be difficult, particularly deciding on the ideal number of invitees and making tough cuts. Check out this guide on getting your perfect guest list, headache free.
Category: Wedding Planning
Many couples dream of having a perfectly designed, beautiful wedding invitation. However, sometimes couples choose designs that are pretty, but not functional. Learn how to avoid common wedding invitation pitfalls here.
Category: Wedding Planning
Your guests are excited to celebrate your wedding with you- and some of them may be traveling a long way to do so! Show your respect and appreciation for your guests with these simple tips to make their lives easier.
Category: Wedding Materials Wedding Planning
Creating your wedding guest list might seem simple- but it can be deceptively difficult due to interpersonal or family politics. Keep the complications to a minimum with some simple guest list tips and tricks.
Category: Wedding Planning
After getting engaged, you are most likely going to be caught up in a whirlwind of positive, loving emotions. Once all of this excitement dies down, you and your future spouse are going to be left with the task of actual ...
Category: Wedding Planning
Getting invited to a wedding can be a lot of fun. This is especially true when you're particularly close with the happy couple. Still, it is important to stop and take a moment to consider a few basic rules of beha ...
Category: Ceremonies Society
Whether you're a laidback person or you're a classic "Type A" individual who stays on top of tasks, planning a wedding can present a wide range of challenges. Even if you've made your lists, ...
Category: Wedding Planning