Posts Tagged: wedding theme
An increasingly common trend in weddings is throwing a vintage wedding. If you're following the mantra of "what's old is new again", here are some decorating and planning tips to get the vintage wedding of your dreams.
Category: Wedding Planning
One of those things you don't think about when setting up your wedding is your wedding lighting. But proper lighting is actually one of the most important details of the whole event. Here's how to nail the lighting.
Category: Wedding Materials
Planning an outdoor wedding or outdoor reception comes with its own unique set of challenges. When planning an event like this, make sure you account for the comfort of your guests and always have a backup plan.
Category: Wedding Planning
Holding a unity ceremony at your wedding is an increasingly common ritual in modern weddings. Jointly lighting a unity candle is a great way for couples to symbolize their union and the beginning of their marriage.
Category: Wedding Materials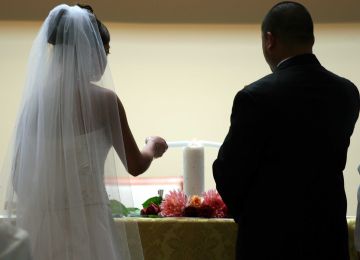 There are many fun, beautiful and symbolic folk wedding traditions you may consider incorporating into your wedding. In fact, there are countless cultural traditions out there- Here are a few of the most common. 
Category: Wedding Materials Wedding Planning
Across the country, budget-conscious couples are turning to micro weddings for their big day. In fact, these intimate events have been gaining in popularity for years and years. Is a micro wedding right for you?
Category: Wedding Planning
Custom wedding themes are becoming all the rage- and for good reason. If you're looking for a unique theme for your special day, consider some of these fun and exciting ideas that are sure to be crowd pleasers.
Category: Ceremonies
There are a lot of steps that go into planning a great themed wedding. If you follow these simple steps, you'll be on your way to crafting a memorable, unique, and classy wedding that comes in under budget. 
Category: Wedding Planning Ceremonies