Ceremonies Articles
Many couples hold a vow renewal ceremony on an important anniversary, relationship landmark, or event. If you'd like to reaffirm your commitment to your spouse, check out this guide for planning the perfect ceremony. 
Category: Ceremonies
Custom wedding themes are becoming all the rage- and for good reason. If you're looking for a unique theme for your special day, consider some of these fun and exciting ideas that are sure to be crowd pleasers.
Category: Ceremonies
Planning a buddy's bachelor party but unsure what to do? Consider tailoring the evening's events to his personal interests and hobbies. These crowd-pleasing ideas will ensure a good night is had by all!
Category: Ceremonies
There are a lot of steps that go into planning a great themed wedding. If you follow these simple steps, you'll be on your way to crafting a memorable, unique, and classy wedding that comes in under budget. 
Category: Wedding Planning Ceremonies
Having your wedding at Christmas may seem unheard of, but there are many plusses to tying the knot on the winter holiday. Balance these pros and cons to see if getting married at Christmas is right for you.
Category: Wedding Planning Ceremonies
Getting invited to a wedding can be a lot of fun. This is especially true when you're particularly close with the happy couple. Still, it is important to stop and take a moment to consider a few basic rules of beha ...
Category: Ceremonies Society
Life has a funny way of taking all of your carefully laid plans and throwing them out the window. While you may have spent months putting together your dream wedding, you have no way of knowing it will go off without a h ...
Category: Wedding Planning Ceremonies
Although the Indian subcontinent is characterized by a wide range of regionally based cultural traditions, some customs are observed by people from many regions and ethnic groups. That includes the baraat, a festive groo ...
Category: Wedding Planning Ceremonies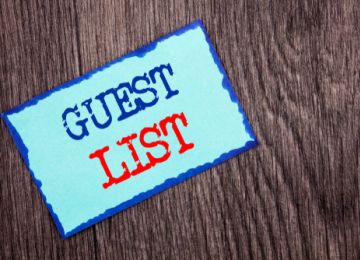 Putting together a wedding can cost a lot of money. Whether you're aiming for a glamorous affair or a more relaxed event, you still need to have a bit of cash saved away before you can see your plans through. Thoug ...
Category: Wedding Planning Ceremonies
Planners have become an integral part of the wedding experience over the years. Having someone around to take care of all the little details can be a huge relief. Of course, not all couples are going to be able to afford ...
Category: Wedding Planning Ceremonies