Posts Tagged: culture
Previous generations often saw couples get married because of pregnancy. But that is less common now. If you've found yourself unexpectedly pregnant, consider whether marriage is the correct choice for you and your baby.
Yoga is generally regarded as a great way to get fit. However, some Christian leaders are taking issue with the exercise's origins in Hindu philosophy. Does yoga, as one pastor says, open you up to demonic influence?
Category: Society
Christenings have changed over the years. People are less religious than in the past, christenings gowns are not as popular, and christenings are more casual than years past. Here are some other ways they've changed.
Category: Baptism
Do you want your wedding reception to stand out from the crowd? One way couples are getting creative (and caffeinated) is with coffee bars. Check out how to pull off this hot new trend at your own wedding reception.
Category: Wedding Materials
A new Instagram account has caused quite a stir for posting pictures of megachurch leaders wearing shoes that cost thousands of dollars. The account has opened a dialogue about what leadership in church really means.
More and more couples are opting for mini-moons right after their wedding instead of the full-blown honeymoon. Mini-moons tend to be shorter and closer to home. Check out these tips for the perfect mini getaway.
Category: Marriage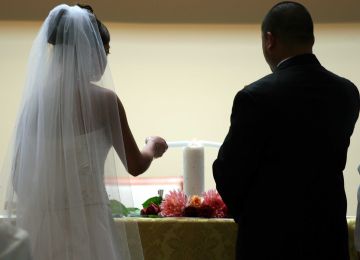 There are many fun, beautiful and symbolic folk wedding traditions you may consider incorporating into your wedding. In fact, there are countless cultural traditions out there- Here are a few of the most common. 
Category: Wedding Materials Wedding Planning
If you're getting your child baptized, you'll definitely want to celebrate with friends and family afterward. Consider these exciting post-baptism festivities to commemorate the memorable and exciting day. 
One thing many couples don't think about before moving in together is how to equitably divide the housework. Often, women take on more than men. Avoid resentment with these tips on how to divide the chores fairly.
If you and your partner are planning on moving in together, you'll need to learn to compromise in all sorts of ways. Check out these tips for working collaboratively to build the home of both your dreams.
Category: Marriage