Get Ordained™ Blog - Page 8
If you don't have a solid wedding budget, your "I Do"-related costs could quickly spiral out of control. When setting up your big day budget, follow these simple tips to stretch your dollar and come out ahead.
Category: Wedding Planning
So you're following Marie Kondo's advice and tidying up. But what if you have a wedding coming up? Follow these quick tips to ensure your wedding registry is filled with items that will spark joy in your new, tidy life.
Category: Wedding Planning
When you get engaged, your first instinct might be to tell everyone immediately. But it may not be so black and white in professional life. Consider these tips when you're breaking the big news to your coworkers.
Category: Engagement
Finding out an author you like conducts themselves poorly can be traumatic. Dealing with the fallout from that can be a personal trial in and of itself. Can art and the artist really be separated- and should they be?
Category: Society
There are a lot of misconceptions on what happens to a couple's credit scores after they say "I do". When navigating the tangled web of personal finance, a little communication with your spouse goes a long way.
Category: Marriage
For most of us, the thought of passing before our trusted pet companions is unfathomable. Yet, it can happen. To ensure your pet is taken care of properly, you should have a plan in place for this scenario.
Category: Loss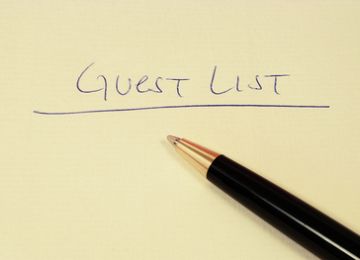 Creating a wedding guest list is one of the first tests of a couple's ability to compromise. Check out these tips for whittling down your ideal list to one that is manageable, affordable, and agreeable to both parties.
Category: Wedding Planning
Selecting the floral arrangements for your wedding is both hugely important and a lot of fun. Finding your ideal floral arrangements may be fun, but be sure not to limit the creative possibilities for your florist.
Category: Wedding Materials
Creating your wedding budget may seem like a stressful prospect- but it's a necessary part of the wedding planning process. Take a look at these tips for keeping your wedding costs low and avoiding financial surprises.
Category: Wedding Planning
Custom wedding themes are becoming all the rage- and for good reason. If you're looking for a unique theme for your special day, consider some of these fun and exciting ideas that are sure to be crowd pleasers.
Category: Ceremonies