Get Ordained™ Blog - Page 28
When a loved one dies in a hospital, most often the body is released to a funeral home for preparation for internment or cremation. In fact, a release form is necessary to have the body go anywhere but a funeral home. So ...
Category: Funeral
Many stories of suffering and survival emerged after the Boston Marathon bombings. Funeral director Peter Stefan's story revolves around his efforts to prepare and bury the body of Tamerlan Tsarnaev, the suspect killed i ...
Category: Get Ordained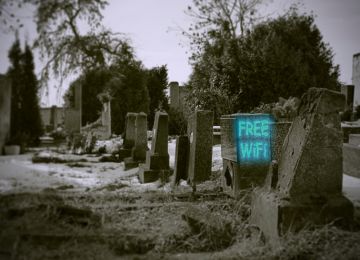 Most everyone has a story or recollection about the misuse of social media in a social situation. Incidents range from embarrassing selfies to inappropriate or even vengeful posts. As with much technology, social media s ...
Category: Funeral
The casket industry in the United States is said to be a 1.5 billion dollar industry, with a typical price tag for a steel coffin coming in at around $2,500. In past decades and until fairly recently, up to 90% of burial ...
Category: Funeral
Funeral of a Suicide VictimFunerals may be emotionally difficult events under any circumstances, but a service for a suicide victim may present special challenges for everyone involved, from the mourners to the officiant ...
Category: Get Ordained, Funeral
The U.S. recently marked the 150-year anniversary of the assassination of President Abraham Lincoln. CBS News covered the occasion with an essay focused on Lincoln's funeral train and the account of that long and emotion ...
Category: Funeral
The poet Joseph Duemer writes, "There are some simple truths inside the world's complexity, and the dogs know what they are." Throughout history, people have declared their appreciation for their pets' undying loyalty an ...
Category: Funeral
In modern partnerships, money is at least as difficult a subject to talk about as sex, and maybe more difficult. Personal finances can be closely associated with security, identity and trust. The joint checking account u ...
Category: Wedding Planning
In recent years, the bachelorette party has received a good amount of attention. The gals-only party is a relative newcomer, however, to the typical American wedding agenda. It is only since the mid-to-late '90s that a n ...
Category: Wedding Planning
Even as the traditional registry continues to thrive, cash and cash cards are increasingly popular options for the modern wedding gift. Couples are less shy about requesting money, and some guests welcome the opportunity ...
Category: Marriage