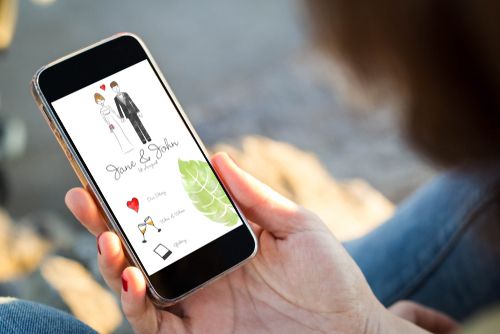 Weddings have definitely gone digital. Technology helps with many aspects of the big day: researching vendors, sending invitations, sharing information with your wedding party, and keeping your guests informed about your event's details. Wedding websites are no different, and they've gained a lot of useful features since couples first created them in the late 1990s. To make the most of your website, consider a few smart moves that go beyond the basics.
Look for Free Website Providers 
If you've done any planning yet, looked for inspiration, or searched for vendors, you've probably browsed The Knot or Wedding Wire. Besides offering planning advice, tools, and vendor listings, both providers let you build a wedding website for free. Zola and Joy, both known for their wedding registries and invitations, also offer free websites.
Besides these four major wedding websites, you have many other options. You can try Basic Invite, an online provider of custom invitations, stationery, and photo cards. Wix, a popular cloud-based website development platform, now also lets couples build free websites. Minted, a company that crowdsources art and graphic design, provides free and premium wedding websites using templates created by independent artists.
Choose Digital Invites and RSVPs
Paper invitations aren't disappearing altogether, but more couples are going the paperless route to save money or make their weddings more eco-friendly. Some wedding website providers have kept pace by providing matching website and stationery designs. Joy offers the same templates for both its websites and paperless invitations, and The Knot partners with several third-party invitation providers, including Paperless Post. Nearly all of the major site providers offer online RSVPs, making it much easier to track your responses.
If you prefer paper invitations, you can still coordinate your stationery and website design while taking advantage of digital RSVPs. Some of The Knot's third-party partners do print-only invites. Zola has matching in-house invites, stationery, save-the-date cards, menus, thank you notes, and other paper goods. With Wix and Wedding Wire, you'll need to custom-match paper invites to your website design. When you print your invitations, don't forget to include your RSVP link.
Consider Sites With Mobile App Access
With mobile device use so widespread, many wedding websites also offer planning apps that let you build and update your guest list, search for and contact vendors, manage your budget, look for ideas, and even update your wedding website. These features are useful when you're on the go, need to make quick edits, or don't feel like booting up your laptop. Wedding Wire, Zola, Joy, and The Knot all support wedding website editing through their apps.
Look for Password Protection
With all the personal details on your wedding website, it's understandable if you want privacy safeguards. Fortunately, many site providers offer password protection for free:
Feature-Rich Sites Deliver Significant Value
Wedding planning keeps you very busy, and you need all the useful tools you can find. Your wedding website can help simplify a lot of the grunt work thanks to several powerful features. Many website providers offer their services for no cost, along with a few added premium features. With digital RSVPs and paperless invites, you can save more money and time. Mobile app access is great for quick website edits, and password protection features keep sensitive information private. As always, do your homework and choose the features and services that work best for your wedding.