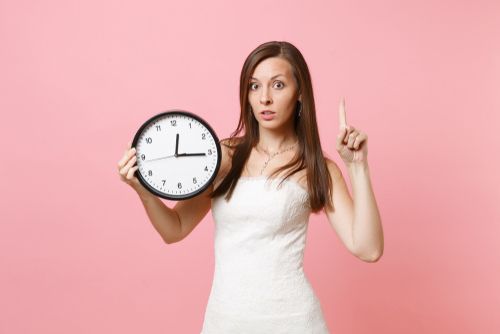 The wedding experience is a collaboration between guests and hosts. The newlyweds must do what they can to ensure attendees' comfort and well-being, and in turn, wedding guests must be courteous and respect their hosts. But what happens when guests go off-script and breach etiquette guidelines? We're not talking about using the wrong fork here. Whether by misunderstanding, carelessness, or ignorance, invitees can sometimes cause problems for the happy couple. Take a look at these four common wedding guest blunders guaranteed to aggravate their newlywed friends.
1. Failing to RSVP on Time
Life gets busy for everyone. Juggling a job and personal responsibilities is no easy task. But think of the RSVP date like a work deadline. If you don't meet it, you could cause problems for other people: the couple, their vendors, the venue, and even other guests. To ensure your friends make space for you on their happy day, make sure you respond by the date on the invite. Set a reminder on your calendar or smartphone. Write it on a bright neon fuchsia sticky note and slap it on your monitor. Ask a friend or family member to pester you until you do it. If you accidentally miss it, call the couple right away, apologize profusely, and ship off your RSVP. 
2. Not Reading Their Invitations or the Website
The couple wants to do everything they can to make their wedding a pleasant experience. Whether you receive a paper or electronic invitation, make sure you read it and other enclosed or attached information. Again, set a reminder or put it on a to-do list if you must. They'll probably set up a wedding website, so be sure to take a look at it as well. Most of your burning questions will be answered by the invite, enclosed materials, or their website. If you check those sources and still need help, by all means, reach out to the couple and ask.
3. Arriving Late to the Ceremony
It's one thing if a crying baby or a fussy toddler inadvertently interrupts a wedding. It's quite another if a guest strolls into the church 15 minutes after the ceremony's started, loudly opening the door, soles clicking loudly on the floor, oblivious to the resulting disruption. Don't be that guest. Leave early and give yourself plenty of travel time. If you are unintentionally late, Brides' Jaimie Mackey cautions against texting the couple or just barging into the ceremony. Enter quietly, take a seat in the back, and don't mention your lateness when you chat with the happy couple at the reception.
4. Bringing Uninvited Plus-Ones
It's never fun attending a wedding alone, especially if you don't know most other guests. You want to bring a friend or perhaps a date, but your name is the only one on the envelope. Perhaps you're tempted to bring a plus-one anyway or add this person to your RSVP. Brides' Tia Albright's advice? Just don't. Whether due to space restrictions, an honest mistake, or other reasons, you're the only guest invited.
If you have a long-term love interest who wasn't on the invite, you may discreetly inquire with the family or a friend of the couple to find out whether this was an oversight. Depending on the response, you have a couple of choices: Go anyway or politely decline and send a gift.
Being a Good Guest Isn't Hard
As with any endeavor involving human beings, things can and do go wrong at weddings. Stories about guests' missteps are all over the internet. While reading these tales is good for a laugh, you don't want to star in one. Timeliness, common courtesy, and paying attention to the couple's communications will ensure that you're a pleasant and gracious guest.