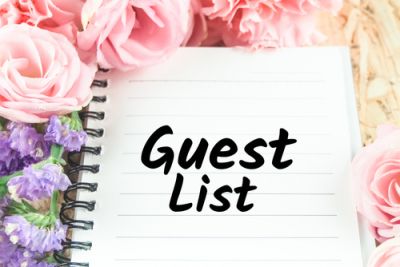 One of the most challenging aspects of planning nuptials is coming up with your wedding guest list. While it might seem like a simple task on the surface, you may be surprised to discover just how difficult it is to come to an agreement on a finalized list. You and your partner need to spend time working through the list, and this can easily lead to disagreements or budgetary concerns. While there isn't some secret solution to solving this dilemma, there are plenty of tips to help you craft a satisfactory guest list.
By breaking down the process in a few simple ways, you and your significant other will be able to plot out the best course of action for your own wedding. Look over these tips and discover the right solution for your big day.
Create a Perfect List
Getting started on this task is somewhat easy. You and your partner need to come together and devise a "perfect" list of guests. Imagine you have no constraints and write down everyone you both would like to be present for your special day. While you most likely will not be able to commit to an idealized list, it can be a great way to get a feel for who you both want present at the wedding. Once you've written out your lists, compare them and see what similarities and differences each contains.
These fantasy lists might be more of a game, but you may be able to get a bit of use out of them later. The lists are likely to contain people you won't be able to invite due to venue size or budget limitations. Still, you may need backup guests should enough people on your list not be able to attend. Your "perfect" list is a great place to draw names from when you need to send out some last minute invites.
Discuss Expenses
Guest lists are usually determined by the happy couple. Unfortunately, there are many circumstances that can lead to other people assuming control of the list. If you and your partner are receiving financial help from family members, you might be looking at a situation where you have to invite specific people to appease your families. This might not be ideal, but it may very well be the tradeoff you agreed to when you accepted assistance paying for the event.
One easy way to work through this is by getting all financial contributors together in one place. Sit down with your significant other and any family members who will be helping to pay for the wedding and discuss the guest list. By bringing together everyone who wants to have a say in the guest list, you can openly discuss any issues you might have and figure out a plan of action that pleases everyone involved.
Hold Your Ground
Finally, you want to remember that this special day belongs to you and your significant other. Though other people may have some say in who gets invited, you two get the ultimate say. Remember to stand your ground when you have strong feelings one way or the other about the list. By keeping your opinions known, you'll have an easier time making a guest list that both you and your partner can feel happy with.
The guest list for a wedding can sometimes transform into a more complicated task than couples might initially anticipate. While there may be a number of unexpected bumps along the way, you and your partner can get through the madness by taking it slow. Remember to have open discussions with any family members involved in paying for the wedding and you may have an easier time figuring out the best plan for your big day.