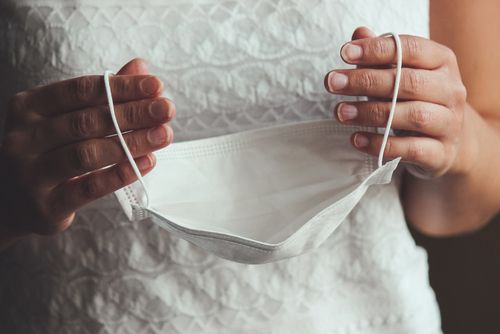 Uncertainty looms as governments all over the world close nonessential public facilities and issue shelter-in-place orders to stop the transmission of COVID-19. Naturally, the pandemic has impacted weddings. If you're tying the knot in 2020, some vital information can help you decide whether to reschedule, adapt your existing plans, or continue as normal.
Effects on U.S. and Foreign Weddings
COVID-19 has significantly affected the wedding industry by disrupting global supply chains. Garment production in China ground to a halt earlier this year, preventing wedding dresses, suits, and tuxedos from being shipped abroad. The impact is felt by wedding vendors like jewelers, venues, caterers, rental companies, and wedding planners. Nearly all small firms have seen their businesses impacted by either cancellations or a lack of goods and supplies.
There's also the public health risk that COVID-19 poses. The CDC cautions that mass gatherings provide more opportunities for the virus to spread. Besides shelter-in-place orders, couples and their guests also face travel advisories and restrictions. Writing for Brides, Jenn Sinrich explains that most domestic weddings slated for between now and mid-May 2020 will need to be rescheduled per the CDC's recommendations. This also means that international nuptials should be postponed or changed to new destinations.
Time May Be on Your Side…Or Not
For couples with weddings planned later in the year, the best course of action may seem a little less certain. While COVID-19's global impacts change with each passing day, Sinrich shares that experts aren't suggesting rescheduling weddings set for June 2020 or later. Yet recommendations and reality are often two different things. In a March 2020 Glamour piece, Minhae Shim Roth mentions one couple concerned about canceling their October 2020 cruise ship nuptials.
In a March 2020 Harper's Bazaar piece, Carrie Goldberg explains how late 2020 wedding plans could still be affected. Assuming that COVID-19 infections decrease and allow travel and mass gathering restrictions to be lifted, you could still lose precious planning time. Technology lets you communicate with vendors and avoid in-person meetings, but important steps such as site inspections and product shipments may be significantly delayed. Suppliers will also need to fill backlogged orders for formalwear, décor, food, and beverages.
So what should you do if your wedding is in June 2020 or later? Don't put the brakes on planning, but keep an eye on COVID-19 developments and remain in frequent contact with your vendors. Goldberg adds that choosing an off-peak date and day of the week may be a wise move if you're forced to reschedule. You should also consider livestreaming your wedding for guests who are elderly, have serious health conditions, or otherwise can't travel. Brides and EventLive.Pro offer tips on streaming setup, equipment, and etiquette.
Working With Your Vendors
Right now, many vendors face the same challenges as their clients: limitations on travel, the practice of social distancing, and struggles with obtaining supplies. They don't want you to compromise your health or run afoul of the law just to get married, so most are flexible in working out alternative arrangements. Review your contracts now and reach out to your vendors for honest discussions about your concerns. You'll want to develop contingency plans in case you're forced to reschedule, but don't forget to bring up guest health and safety as well.
To Reschedule or Not To Reschedule?
As COVID-19 upends life all over the globe, dependable information is key to making smart decisions about your 2020 wedding. Don't put your health or that of your guests at risk, but resist the urge to panic. Your first step is staying informed through reliable sources such as the CDC's website. Communicate closely with your vendors, remain flexible, and be willing to adapt your plans as conditions change.