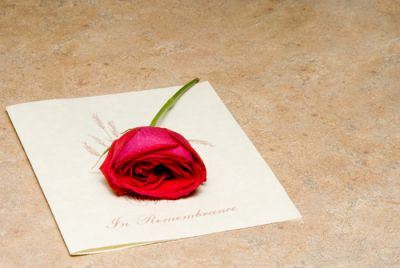 When a loved one passes, you could end up with many responsibilities on your plate. Dealing with finances, insurance, and legal issues can prove to be consuming. Yet on top of all this, you have a funeral or memorial service to plan. Your funeral director or minister can help you pin down the details, but you'll also need a program for your event. If trying to pull one together seems intimidating, take heart. With a little organization and some useful tips, you can craft a beautiful and respectful program to commemorate your family member or friend.
Key Details To Include
Funeral Potatoes, an independent blog offering resources for the bereaved, spells out important elements that should go into a funeral program. Minimum contents include the deceased's name, a recent photo, dates of birth and death, a brief obituary, and the event's order of service.
Funeralwise specifies that the name, photo, and dates usually appear on the front cover, along with the service date and time. Some also place an inspirational quote and a title for the program on the cover. Funeralwise mentions titles such as "A Celebration of Life" or "A Final Farewell," but you can customize this to fit the tone of the service. The interior usually contains the order of service along with any interment details and a list of participants such as musicians, readers, and officiants.
These are just a few basics, but you can feel free to add more elements if you like. Funeral Potatoes mentions examples of these, including additional photos, more inspirational quotes, lyrics to musical selections, funeral luncheon details, and any favorite poems, readings, or prayers. Depending on how much space you have available, you may opt to publish an expanded version of the newspaper obituary.
Understanding the Order of Service
Just as with any other ceremony or event, funerals must follow an order of service. This order can vary according to the culture and preferences of the deceased individual and the family. If you're creating one on your own, you're either determining that order of service or you already know what's been planned.
For those who need help pinning down those details, several resources are available. Your house of worship may have liturgical guides, or you can collaborate with your officiant. The Universal Life Church Monastery provides a funeral script generator that can give you a few ideas. Meanwhile, Funeralwise describes how humanist or secular services typically work. Regardless of whether the memorial is religious or not, most follow a basic general format:
Introduction or opening remarks
A passage from scripture, poetry, literature, or other meaningful sources
Musical selections
A tribute, eulogy, or sermon
Remarks offered by the deceased's family and friends
A final reading or meditation
A closing musical selection
Final thanks, prayer, or remarks
Constructing the Program
You have a wide range of software options for designing a funeral program. Techwalla offers instructions on how to craft one in Microsoft Publisher, and Funeral Potatoes mentions products such as Microsoft Word, Google Docs, Apple iWork, or Adobe InDesign. Apache OpenOffice users can search the product's website for free program templates. If creating and printing your own isn't feasible, several vendors have easy-to-use printing services that allow you to input the information and have the programs shipped to your home or office.
The death of a friend or loved one is never easy to handle. On top of navigating your own feelings, you must attend to important practical matters. Designing a funeral program may sound simple at first, but it can seem challenging or overwhelming if you don't have good tools or information. Fortunately, access to these resources makes the process much easier and helps you craft a beautiful and meaningful program.