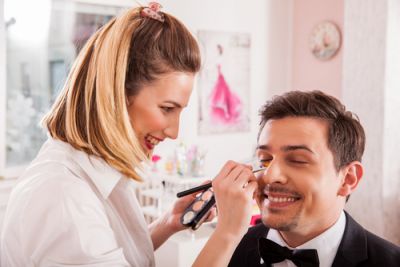 What comes to mind when you think about makeup-wearing men? You might think of well-known beauty influencers such as Patrick Starrr or Kenneth D. Senegal, who posts as HeFlawless on Instagram. Perhaps you admire actor Daniel Kaluuya's Fenty Beauty look on the 2018 Oscars red carpet. Meanwhile, BET Style reported that major brands such as MAC Cosmetics saw increases in their male customer bases in 2017.
Men in cultures from all over the globe have worn cosmetics for thousands of years. Yet more are embracing them now for everyday wear, special occasions, and their weddings. Want a great look both in-person and in your final photos? A few tips can help put you on the right path.
A Quick History of Men and Makeup
Byrdie editor Amanda Montell traced the histories of men and cosmetics in a June 2018 article. Ancient Egyptian males wore them to enhance their features and sense of masculinity. One popular tactic was creating striking looks with dark kohl-lined eyes. Vivid green malachite eyeshadow was thought to invoke divine protection. Elaborately styled faces also signified one's status, since wealthy citizens had both more time and access to high-quality products.
Fast-forward to ancient Rome, where men with the means and time would use powder to brighten their faces and red pigment to add color to their cheeks. Montell commented that makeup was also popular in Elizabethan England and Enlightenment-era France. Throughout history, men all over Asia and the Middle East used kohl and other beauty enhancers. It wasn't until the Victorian era that cosmetics fell out of favor. Both the British crown and the Church of England argued that wearing them was vain and sinful.
A Picture-Perfect Look for Your Big Day
Fortunately, makeup for men made a comeback in the West during the late 20th century and the early 21st century. Montell credited celebrity influence as well as male influencers and artists sharing their work on social media. Unsurprisingly, more men are now adopting it for daily use and special occasions. Plenty of YouTube tutorials exist for males aspiring to learn. Within minutes, one can find out how to enhance and shape brows, fill in areas of patchy facial hair, cover blemishes, or create a simple everyday look. LifeHacker's Patrick Allen offered a beginner's guide to help men construct a care regimen and choose the best products that fit their needs.
In a July 2017 Allure piece, Macaela Mackenzie discussed the growth of grooms' makeup services in the wedding industry. More husbands-to-be seek out salons, makeup artists, and spas for their own wedding-day style. Whether you're new to makeup or a bit of a pro, you'll want the expertise of a local artist to get you ready to tie the knot. Both Martha Stewart Wedding's Sharon Becker and The Knot list some great tips to help you pick the best one for you:
Check with your wedding photographer for recommendations.
Know what you want and get ideas before your initial consultations.
Review artists' websites and chat with them before requesting a trial run.
Ask plenty of questions.
Estimate the length of time needed for application and work it into your wedding-day schedule.
Not Just for Brides Anymore
Celebrities, beauty influencers, and various subcultures have shaped popular fashion and personal care. As traditional gender norms continue to fade, more men are exploring cosmetics. The good news is that you don't have to be an A-lister to enjoy a stunning look on your wedding day. Seeking out the right professionals, learning new techniques, and listening to advice are all essential. With these steps, self-confidence, and an open mind, you too can glow up when you walk down the aisle.