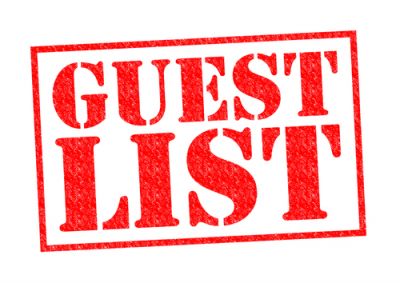 Certain parts of planning a wedding can bring about more stress than others. The guest list, for example, tends to be a part of the process that causes most couples to feel a bit frustrated. When you're working with a limited number of seats in your venue, you might find that you need to make some tough decisions regarding who will and won't be getting an invite. While it can be a lot to deal with, there are some simple and straightforward ideas worth your consideration to make the process go a bit smoother than anticipated.
Look over these suggestions on how to make a guest list for your wedding. With a bit of research, you will be ready to tackle this task and make the difficult choices that come along with it.
The Money Problem
Before you even begin to create a guest list, you need to consider a few factors. For one, you should ask yourself if anyone else will be making financial contributions to the event. It is somewhat commonplace for a parent or, in some cases, a grandparent to provide financial assistance for a wedding. While this can be a huge help, it also may come with some caveats. Specifically, those contributing funds might require a specific number of invitations to give out to their own choice of guests.
While this might not be the case for all couples, financial contributions from friends and family members might impact how you create your guest list. Before making the first draft of your list, ensure that you didn't offer extra invitations to anyone. The last thing you want is to make a list, send out invitations, and have a relative ask for invitations for a friend from work or distant cousin. Once you've accounted for this, you will be ready to sit down with your partner and dig into the meat of the task.
A Divided Task
Next, create the actual guest list. This step can also bring about a number of unique challenges for couples. The idea here is to take a look at the available space provided by your venue and figure out which family members and friends you would like to send out invitations to. This can be difficult if you and your partner are both dealing with larger families, as it might mean you need to make some difficult cuts as you finalize the list.
The most important thing to remember when making the list is that both you and your significant other have the same say in the matter. If one person is making more decisions than the other in regard to guests, it can easily lead to an argument. Try to divide the guest list as evenly as possible, allowing both you and your partner to have the same number of invites. While certain factors might limit this, try your hardest to keep this task an even playing field.
Easy Cuts
Finally, you might need some help with where to make cuts to your list. While there's no official way to make cuts, the task will be simpler if you follow certain rules. Try to use the "five-year rule." If you haven't been in consistent communication with a friend for the last five years, then you should not feel obligated to send this individual an invite. Making cuts based along these lines can help make some tough choices a bit easier along the way.
Creating a guest list for your wedding can easily become one of the more challenging aspects of the planning process. Follow the tips given here to make your life a bit easier and find a solution that works for everyone.