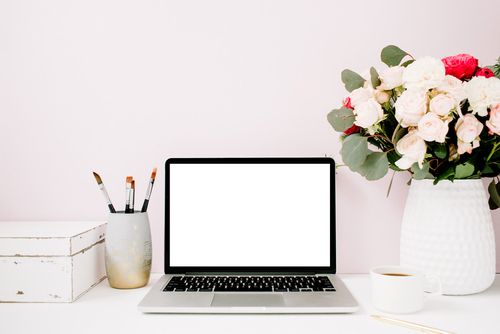 Wedding planning involves a lot of tasks. The usual to-dos include hiring vendors, reserving venues, finding attire, and building a guest list. But as you're reviewing planning checklists on popular wedding websites or in your mobile app, your eyes fall on the words "create a wedding website." Maybe you feel a bit lost with no clue how to even construct a site, or you struggle with organizing information and you're afraid of excessively info-dumping. Fortunately, you're not without solutions. Keep reading to learn some tips and tools to help you create a fun and useful website for your guests.
Start Your Website Early
Brides' planning checklist and timeline recommends that you start designing your wedding website about 10 months before the big day. That's because you'll probably send out your save-the-date mailing around nine months in advance. You don't have to have all the details nailed down, but you can publish your site with the most important essentials: date, time, location. It's also a great opportunity to offer a sneak peek at your theme and include dress code information. If you're sending out save-the-dates, don't forget to print your site's URL on the cards.
Choose Your Details Carefully
If you're hosting a local wedding, you should send invitations about two to three months before the event. The Knot's Maggie Seaver and Wedding Wire's Kim Forrest mention basic information that you should add to your site:
Registry details
Venue directions
Transportation and lodging
Social media guidelines
Wedding party details
Room block information
Local entertainment and attractions
Your love story
Your site is also the best place to let guests know if your wedding is adults-only. Seaver suggests explicitly addressing invitations if your wedding is child-free: for instance, "Mr. Andre Jones and Mr. Tyrone Washington" instead of "The Jones and Washington Family." Make sure you update all these details before your invitation mailing goes out, but it doesn't hurt to post them earlier if arrangements have been finalized.
Keep It Simple and Sincere
You've got a lot of information for your guests, but you don't want lengthy walls of text that can outlast their attention spans. Streamlining your writing and focusing on the essentials is key, and A Wedding's Maddie Eisenhart provides some useful tips for making that happen. Think of your website as a help desk, she advises, so choose an informative rather than a didactic approach. Asking yourself "What do my guests need to know?" can guide you in writing succinct and informative language. You can take this a step further by writing a FAQ section, as suggested by the New York Times' Daniel Bortz.
Don't Forget the Fun Stuff
You want to make your site easy to read, but you also don't want it devoid of personality. Your love story and wedding party bios are perfect opportunities for lighthearted and fun touches. Feel free to get creative with your love story, as The Knot's Sarah Hanlon suggests. This section is the ideal spot for your engagement photos, but you can also pair your text with a video version of your love story.
Wedding Wire's Christin Perry describes wedding party bios as short blurbs that help your guests get to know your attendants. You can give these any tone you like: formal, fun, quirky, cute, or anything in between. Perry recommends using the same basic format for each bio, especially the tone and amount of details. Steer clear of potentially embarrassing personal information, and don't forget to let your party members review their bios before you post them.
Keep an Organized Approach 
Hopefully, this guide made building your wedding website seem a little less intimidating. Keep your information organized, and remember to budget enough time to work on the site among your other planning tasks. With these practices, you'll craft a gorgeous and helpful site that your guests will love.