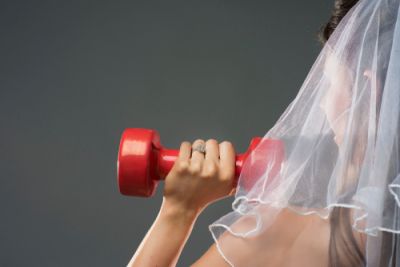 Your wedding day has finally arrived. Months of planning have paid off, and you've managed to stick close to your budget. Now all you need to do is get dressed, remember your vows, kiss your future spouse, and enjoy your party. Simple, right? Not quite. There are a few essentials you don't want to forget when the big day arrives.
Nutrition Notes for Nearlyweds
It may be tempting to skip meals if you're pressed for time on your wedding day. However, SELF Magazine writer Zahra Barnes explains that complex carbohydrates are an ideal source of glucose, which fuels your brain and enables you to focus and remain alert. Barnes also underscores the serious negative consequences of powering through your day without stopping to eat:
Concentration difficulties
Irritability and mood swings
Overwhelming hunger
Shakiness and sweating
Barnes also reveals that skipping meals can also lead to poor meal choices, since you'll desperately grab any source of carbs to stave off hunger. You can avoid feeling drained and experiencing blood sugar crashes by building meal and snack times into your wedding day. Set your alarm early to allow plenty of time for breakfast and schedule enough time for lunch so you don't rush through your meal or consume junk food to compensate. Also, don't get so caught up in greeting guests at your reception that you forget to eat. Consider asking your caterer to prep your and your spouse's meals in to-go boxes just in case.
Medication Must-Haves
Forgetting to eat is bad enough, but skipping your medications can lead to even worse problems. Nevertheless, you can avoid the unexpected with a little pre-planning. If you regularly take any prescriptions, invest in a pill organizer and fill it with all your standard dosages for the entire day. At the same time, be careful and keep the rest of your meds in their original bottles, especially if you're traveling to your honeymoon destination by air.
Helpful Hydration Hints
A busy schedule can interfere with another healthy habit: staying hydrated. The Mayo Clinic lists several common dehydration symptoms such as extreme thirst, dark urine, dizziness, fatigue, and confusion. Ensure that you have access to plenty of water by stocking several bottles in your hotel room fridge or purchase a filtered water bottle, which cuts down on plastic waste and can purify water from taps, drinking fountains, and other sources.
Work Out Fitness on the Road
It's also vital to ensure that your wedding-day routine includes some time for exercise. Being away from home can pose a challenge, but WebMD contributor Leanna Skarmulis offers several suggestions for staying fit on the road. A jump rope and exercise tubes are easy to pack and won't take up much space in your luggage. Meanwhile, you can also scope out your hotel's fitness facilities and local outdoor spots that are safe for joggers and runners.
Take a Breather
Paying attention to your mental health is also critical, so make sure you build in some breaks throughout your wedding day to relax. Some may prefer mini-breaks to step outside and get some fresh air or a few minutes away from the chaos to meditate. An August 2016 Brides article also suggests a private break for you and your spouse after the ceremony with some drinks and hors-d'oeuvres provided by your caterer.
A busy wedding-day schedule can make it easy to overlook your own needs. Attending to your self-care ensures that you're happy, healthy, and mentally present for your celebration. While scheduling your itinerary and finalizing last-minute details, make sure you build into your routine enough time to eat, hydrate, take your medications, and set aside a few moments to unwind.
Category: Wedding Planning