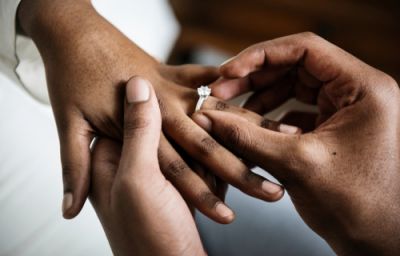 You've been dating your partner for some time, and you feel as if you're perfect together. You complement each other in unique ways, and your affection continues to grow. You want to propose, but you're not sure about your next steps. Planning for the big moment takes some thought and effort, but some sage wisdom can guide you as you move forward.
Knowing When the Time Is Right
If you've given the proposal question careful thought, you're not alone. Business Insider's Shana Lebowitz mentions a recent eHarmony survey of American adults ages 25 to 34. On average, most knew their partners for around 6.5 years before deciding to wed. For many people, that's plenty of time to evaluate and observe their relationships.
Even so, you need to do a reality check before you pull your perfect proposal together. There's no singular surefire way to determine whether you're both ready to tie the knot. Lebowitz relays useful advice from New York relationship expert Andrea Syrtash. It's wise to watch for telltale signs from you and your partner:
Bringing out the best in each other
Sharing significant goals and values
Openly discussing your finances
Agreement about whether to have children and how to parent them
Communicating openly about sexuality
Feeling safe, respected, and valued
Brides writer Jaimie Mackey suggests other things to consider prior to planning your proposal. Talking with your partner is a vital step. Your conversations can be broad in scope, but your goal is learning whether your mate envisions marriage in your joint future. Keep in mind that you may need to discuss your intentions with your beloved's parents, but not necessarily in a traditional tone. You could simply mention that you want to propose and would like their support.
Put a Ring on It
Most experts suggest buying the engagement ring as a starting point. Jaimie Mackey and The Knot both stress the importance of doing your homework, so pay attention to clues about your partner's preferences. Check Pinterest boards, chat with family and friends, and search local jewelers for ideas. Don't forget to find out the correct ring size. From an existing ring, a skilled jeweler can determine proper sizing. Be sure to allow enough time for your vendor to source or craft the ring.
Planning the Magic Moment
Your proposal will consist of several important elements. Sentimentality is paramount, according to Martha Stewart Weddings. Look to favorite places, songs, movies, or books for inspiration. If possible, you could return to a significant spot such as where you first met or had your first date. Martha Stewart's experts caution against choosing trendy spots. Instead, time-tested places like monuments and parks are always great options. You'll also want to consider whether your proposal should be public or private. When in doubt, use your partner's preferences to guide you.
Location is key, but you also need to think about other logistics. You may require help from friends and family to keep your plans a secret. Also, you should figure out a "decoy" story to get your intended to the right place at the right time. Be sure you know your partner's schedule on the day of your proposal. This way, you can avoid springing the big moment after an intense gym workout or when they're trying to finish a work project. Finally, make sure you dress to impress and don't forget to choose a "Plan B" location just in case.
Polished Planning for Popping the Question
Proposing marriage is a major milestone. Before you pop the question, make sure you and your partner both see wedded bliss in your future. Selecting the ring and planning the location, mood, and elements are also critical to your success. With smart planning, you'll craft a memorable and meaningful shared moment.