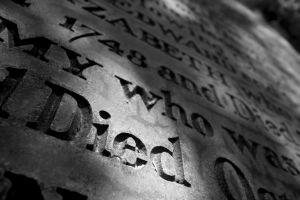 One of the hardest things to write is an obituary for a loved one. It's difficult for many reasons, not the least of which is that you can no longer ask your family member what they want to be included in it. You're grieving and sad. It's not something you write every day, which is another reason you might be intimidated by the task. We're going to break it down and give you some pointers.
What to Include
Full name of the deceased, including a maiden name or nickname, if appropriate
Dates and locations of birth, wedding, and death
How the individual died, if you choose
Predeceased family members, mother, father, siblings, children, etc.
Surviving loved ones, parents, siblings, spouse, children and spouses, grandchildren, etc. (Sometimes, when there are a lot of family members, people only give a count of grandchildren. You could also list the cities where each individual lives, if out of the area.)
What schools were attended by the deceased
Military or government service
Employment and position
Organizations in which the deceased was a member: church, civic, fraternal, etc.
Hobbies or interests
If the family wishes for donations to go to a specific charity, include the address and website for people to use. You should also include service information if the services are public. Give as much information as possible. For private services, simply indicate so, i.e. "Burial will be held for family members only." If the family is requesting monetary donations instead of flowers, you could say, "In lieu of flowers, the family is requesting financial assistance for the services."
You should get this obituary published as soon as possible, prior to the service, to allow friends to make arrangements to attend. You can be creative in writing this obituary, if you choose. Include special moments in the life of the deceased. Be personal and tell a story. Talk to the others in the family and make a list of things you might want to include before actually writing the obituary. Don't just make a list of achievements- try to capture the essence of your loved one.
More Tips That Could Help You
Check with the newspaper and funeral home before you start. You may find that there are limitations you need to know about. Larger newspapers often charge for space on the obituary page. If money is tight, you may not want to publish too much. However, many funeral homes offer website obituaries that are simply part of the package. Here, you can write much more, if you desire. The funeral home may offer a guide for you to follow. This can help you collect your thoughts.
The best thing to do is to talk to loved ones about their own obituary. Today's families often live hundreds of miles from each other. Although people do talk to each other, you may not know every organization Aunt Ethel belongs to in her town. Do you remember where Uncle Pete graduated from college and when? Maybe your mom twirled baton in high school, winning awards and a scholarship for her endeavors. Would you know? Perhaps your father goes to the local high school every Tuesday and tutors kids who are struggling. He never thinks to tell you because it's not a big deal to him. To the students he's helped, it is.
It's hard to think about writing an obituary for your parents, your aunts and uncles, or even your kids. Unfortunately, we never know when death will occur. Consider making a few notes now, while you can talk to the person. At least know where to find the information when you do need it. Designate a family historian, not out of morbidity, but out of heritage. Know your family and track your history. It will come in handy when you do need it.