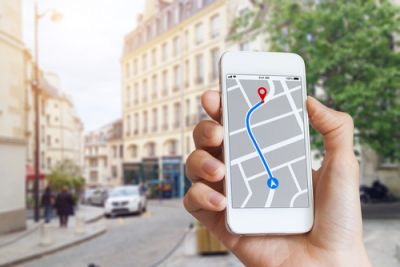 Unless you plan to elope, your wedding celebration is as much of a community affair as it is a personal milestone. As the happy couple, you'll play host to friends, family, and others in your social circle. These individuals will take time out of their schedules to celebrate with you, so observe some smart advice as you plan your big event.
Which Way to the Chapel?
Local wedding guests may know where you're tying the knot, but your out-of-towners won't. That's why driving directions are a standard inclusion in most wedding invitations, but you can also post them on your wedding website. Keep in mind that some wedding website providers may offer embedded map features, but you may be required to purchase premium services to access these functions.
Meanwhile, Donna Pilato of The Spruce discusses more helpful hints to assist your guests in getting from point A to point B:
Ask for printed directions from your venues.
You can also use mapping apps to print them yourself.
For venues that are tricky to reach, you may wish to prepare your own.
Include directions from all major freeways.
If writing your own, try to mention landmarks if possible.
For ceremonies and receptions hosted at separate venues, don't forget to give directions to each location separately as well as from the ceremony to the reception.
Help Them Decipher Your Dress Code
Wedding guests sometimes find it difficult to decipher dress code language on their invitations. Brides writers Heather Lee, Sandy Malone, and Jen Glantz offer a breakdown of common terms. Your wedding website is the perfect place to explain your dress code or offer links to guides such as the one published by Brides. InStyle's Dobrina Zhekova discusses other recommendations for communicating your dress code:
Let guests know about venue attire restrictions, such as jacket requirements or prohibitions against bare shoulders.
Ask your wedding party to tactfully spread the word.
Ask your wedding planner to help answer attire questions.
Reveal key details about the venue. Knowing that you'll tie the knot on a sandy beach, in a garden, or inside a ballroom with marble flooring can aid attendees in selecting appropriate attire and footwear.
As you prepare your text, remember that some people may become offended if they perceive that you're telling them what to do. With that said, A Practical Wedding's Maddie Eisenhart stresses the importance of informing your invitees rather than instructing them.
Can You Hear Me Now?
For guests to enjoy your wedding, they must also be able to see and hear the action. During your preparations, make sure that you test the existing AV equipment in your venue. If no audio-visual system is included, consider renting one from a third-party vendor. Experts at The Knot advise using a mic and a riser if guests will be seated more than 15 rows back from the ceremonial space. Also, be sure to ask hearing-impaired guests what they need. Those with hearing aids may require looping systems or use personal FM transmission systems.
A Fun and Organized Evening
Here Comes the Guide lists several more logistical practices that your wedding guests will appreciate. A short ceremony and a seamless event timeline are the first steps, but don't forget to post clear signage for seating and parking. Alternatives to dancing will be a big hit among those who aren't inclined to hit the floor. While you're at it, pay attention to comfort and accessibility issues such as temperatures, wheelchair access, and providing plenty of space for people to move and sit.
You're working hard to make your wedding day pleasant and appealing for your attendees. Your efforts should include providing vital conveniences, assistance, and information to help them navigate, relax, and have fun. Answering questions, following some planning advice, and understanding their needs go a long way toward crafting a memorable affair.