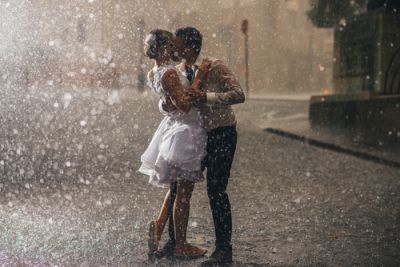 Baltimore television station WBAL reported in July 2019 about a couple hurriedly tying the knot before the approach of Tropical Storm Barry. They'd intended to marry on July 13, but they said their vows and celebrated on July 12 with a parade through New Orleans's French Quarter. This may be considered an unusual move, but the two went through with the affair since they already had their rings and marriage licenses. The happy pair lucked out, but what do you do when disaster looms? Planning ahead may be the key when dealing with potential threats.
What Is a Natural Disaster?
The International Federation of Red Cross and Red Crescent Societies provides useful definitions for natural disasters. They're sometimes called "acts of God," meaning that they're judged to be outside of human control. Several types of weather, geophysical, and biological events are classified as natural disasters:
Hurricanes, tropical storms, and floods
Tornados and cyclones
Disease epidemics
Earthquakes
Landslide, tsunamis, and avalanches
Volcanic eruptions
Drought and wildfires
Weather and Other Key Problems
The most common nasty surprise that soon-to-be-married couples face is unexpected weather. During the spring and summer months, atmospheric events and increased precipitation can wreak havoc. The National Severe Storms Laboratory explains that tornado season usually spans late spring through the middle of summer, between May and mid-July. As for hurricane season, LiveScience points out that it usually falls between mid-May and late November. Unfortunately, these two time periods are also a prime time for weddings. According to Wedding Wire, the top five months are October, September, June, May, and August.
Even so, some types of natural disasters are even harder to anticipate. California wildfire season usually lasts from mid-summer to early fall, but experts speculate that climate change may bring year-round dry conditions and temperature extremes that wildfires need to thrive. Earthquakes and volcanic activity are even less predictable, as well as the tsunamis and landslides that they may trigger.
Tips for Effective Preparation
Fortunately, you can plan in advance to reduce the chances that your wedding will be ruined. The NSSL reveals that most tornados form between 4 p.m. and 9 p.m., so you may wish to schedule your ceremony earlier in the day. Also, getting hitched in the fall should cut back on the likelihood of a twister. With hurricanes and tropical storms, keep in mind that you're most at risk in coastal and island areas. TravelBash mentions the North Atlantic Ocean, the Gulf of Mexico, and the Caribbean as hurricane hot spots. Nevertheless, studying weather patterns for your destination can give you some idea of storm probabilities close to your desired date.
Purchasing wedding insurance is also a smart move. NerdWallet outlines the most commonly covered losses such as no-show vendors, extreme weather, injuries, and unexpected venue cancelations. The International Risk Management Institute discusses other covered claims resulting from earthquakes and floods. Before you buy, be sure to read each policy's covered losses and limitations.
Meanwhile, you must also consider your own safety as well as that of your guests and hired professionals. The Knot and Brides writer Erin Celletti urge readers to review their contracts' cancellation clauses and discuss rescheduling options with each vendor. You may want to cancel or postpone the event if you're given enough advance warning. If not, follow any evacuation orders and keep in contact with your guests to ensure they get out successfully as well.
Stay Safe and Minimize Your Risk
You can't predict everything that can go wrong with your wedding, including natural disasters. However, you're not without options. It's important to understand the appropriate risk factors in your area. Consider purchasing wedding insurance and devising a backup plan in case you must cancel or evacuate. This contingency planning is essential for salvaging your event and keeping you and your guests safe.