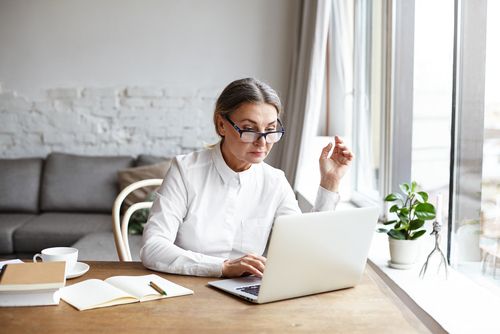 From custom cocktails to unique hashtags, weddings have become more personalized in the 21st century. Yet well before Instagram was even a thing, couples were writing their own vows. Maybe the traditional wording doesn't fit your values, or you have a strong desire to make these important promises in your unique words. But what if nothing you write reflects how deeply you feel? Professional wedding vow writers can help craft the words that elude your mind and heart. Keep reading to learn more about these pros and how to hire one for your wedding.
Personalized Language for a Modern Marriage
Brides writer Jamie Birdwell-Branson discusses how vows have changed over the last few decades. Believe it or not, traditional Christian vows originated from the 11th century Roman Catholic Sarum rite. One of the first English versions appeared in the Book of Common Prayer, published in 1549. It's not surprising that most couples don't use traditional wording anymore, and that's because the nature of marriage relationships has shifted. Even so, some couples struggle to put their love into words.
Hiring vow writers is now a common practice, with people turning to experienced wordsmiths for several reasons. As it turns out, writer's block isn't the only one. Madame Noire's Jazmine Denise Rogers mentions the inevitable time crunch that comes with wedding planning. Some couples are too busy to craft their wedding vows, but they still want these words to reflect who they are as a couple. People who aren't comfortable with public speaking can also benefit from a vow writer's services. Some writers offering coaching services, so they can assist you in developing your delivery style.
The Vow Writing Process
Each wedding vow writing professional uses a slightly different process to craft these cherished words. Most writers use a collaborative process with their clients. They'll typically interview their clients first either in person, by phone, or through an online service like Skype or FaceTime. During these interviews, writers ask questions to learn more about their clients' relationships. Wedding Wire's Jenn Sinrich adds that hearing your voice also helps the writer get a sense of your personality and the kind of language that best matches it. Some writers send questionnaires after the initial interview to elicit other meaningful details.
Vow writers establish timelines with their clients with benchmarks for the first draft, subsequent revisions, and the final product. You can expect to see at least two to three drafts before your vows are complete. Keep in mind that some additional minor tweaking may be involved, depending on your chosen writer's process.
Hiring Your Writing Pro
Sinrich points out that vow writers aren't much different than other wedding professionals. Like a florist or baker, the writer's goal is to produce a personalized work of art for your event. Many have websites and are listed in wedding services directories. You may encounter professionals offering multiple services: for instance, ceremony scriptwriting or officiants who offer vow writing as part of their services. They may also list the types of ceremonies they've written for.
When you're shopping around, you should interview prospective writers and make sure you understand their contracts and policies. It also doesn't hurt to read customer reviews or ask to speak with previous clients about their experience and satisfaction. Most vow writers charge between $200 and $2,000, depending on the services you request.
Words From the Heart 
Many couples write their own wedding vows, but some struggle with putting heartfelt sentiments into words. Thanks to professional writers, you don't have to abandon the idea of personalized vows. As with any other wedding vendor, you should research service providers, understand their pricing and policies, and select one whose services best fit your needs.