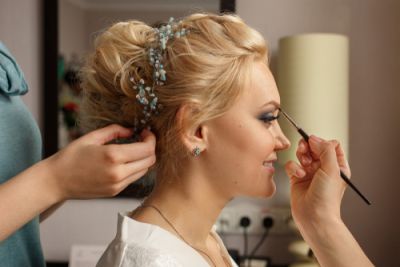 Preparing a wedding budget and managing event expenses can be difficult for many couples. Limited funds, accidental overspending, or lack of careful planning can further complicate matters. If you're stuck with financial lacunae, you may be tempted to wheel and deal with a prospective vendor. One cautionary tale circulating through social media warns against taking this tactic too far. Not only that, it illustrates the importance of building a spending plan to fund your event.
There's No Such Thing as a Free Lunch
Making the rounds recently was the outrageous story of a bride who tried to barter with a professional for free services. Reddit user MandieKitty, a makeup artist in northern California, posted screenshots of her exchange with the woman. The inquirer claimed she was a local model, then offered "professional, high-quality photos" that the artist could then use in her portfolio. Of course, MandieKitty sniffed out the true intent behind the query. She sent a response in which she not only refused the gig but referred to the request as "highly offensive and unprofessional."
Others on the Reddit thread were quick to agree with MandieKitty. A few hair stylists and makeup artists mentioned that their work was often underappreciated. The original poster also speculated that clients perceive makeup should be cheaper, since they apply their own every day. Yet makeup artists and others in the cosmetology field undergo advanced training. Formal event makeup must be long-lasting, flatter their clients' features, and hide flaws.
Makeup artists aren't the only ones who encounter discount-hungry prospective clients. Freelancers in other fields encounter the same issues. Cheryl Bailey exhorts vendors to stand firm on their pricing structures in a Wedding Industry Rescue article. DIY Photography columnist Missy Mwac also offers advice on how to handle requests for free photography services.
Essential Wedding Budgeting Tips
"So suddenly on your wedding day you want other people to work for free because you failed to budget? Get out of here." This sentence from MandieKitty's reply references a common wedding-planning pitfall. The Knot mentions that forgetting to properly allocate funds can prove to be your downfall, even if you've come up with a close total ballpark figure.
Thankfully, you can avoid such headaches with tried-and-true budgeting practices. Here Comes the Guide outlines a simple plan that can guide you toward an accurate financial breakdown:
Determine all sources for your event's funding, including contributions from your family.
Total up money from other sources, then compute how much you can realistically contribute.
Establish your guest count.
Choose your top priorities and budget for them first.
Research your event's total costs, including hidden fees.
Compare your final budget figures with the cost of your ideal wedding.
The average American wedding cost almost $34,000 in 2017, according to Business Insider's Sarah Jacobs. At the same time, she cautions that prices can skew higher in major metro areas and upscale, high-income communities. For instance, Manhattan's typical wedding price tag of $76,944 is more than double the national median figure. That's why you need to find out the usual rates for goods and services in your area.
If You Fail To Plan, You Plan To Fail
Most would agree that asking any professional to work for free is rude and insulting. It's also easy to laugh and roll one's eyes at such stories when they circulate through social media. Yet couples can learn important lessons from faux pas like these. Constructing a sound spending plan is the first step to organizing any event. Researching costs is also essential in ensuring that your plan is accurate. Weddings can be expensive, but these wise budgeting steps should help you steer clear of financial shortfalls.