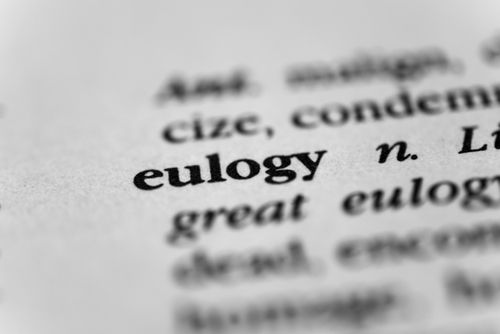 Whether you have to deliver a eulogy the week after you lose a loved one or months later, it will always be a daunting task. Navigating the storm of grief is one of the hardest things you will ever do. However, speaking about your loved one at a funeral or a celebration of life event is an opportunity to honor that person who meant so much to you and others. This guide will help you understand the process of writing and delivering a eulogy that celebrates your loved one and comforts those who are mourning.
Reflect on Your Loved One's Life
Before putting pen to paper, take some time to reflect on your loved one's life and your relationship with them. Your speech should honor your unique relationship with this person while also considering their achievements, values, hobbies, and impact on others. Expressing gratitude and words of hope can be extremely meaningful for people who are overwhelmed by grief.
Choose a Clear Structure
You can structure your eulogy in a few simple ways. One approach is to speak about your loved one's life story. Cover important details such as what their career was, who they married, and how many children they had. The idea is to focus on enough major details so that the congregation can better come to understand who the person was when they lived.
Another good idea is to choose a theme that focuses on one of their passions or attributes and carry that theme throughout the entire eulogy. If neither option seems appropriate, you can share personal stories highlighting your interactions and memories with the person who passed away. 
Regardless of whether you were given a time limit, remember that most people can only focus for about five to seven minutes. Being brief with your remarks makes it more likely that your words will leave a lasting impression.
Focus on the Beginning and Ending
The two most important parts of your eulogy are the beginning and ending. You should fit your key takeaways, anecdotes, or memories into these two places in your speech. The beginning of your eulogy sets the tone and gives people an idea of what to expect, and the ending provides a sense of closure for those who are grieving.
Consider opening and closing your eulogy with a quote, a song lyric, or a short anecdote. Make sure that whatever you choose, your words convey your love and respect for the departed.
Edit and Practice To Keep It Concise
Always edit and practice your eulogy so that it remains concise and to the point. Once you have the basic structure down of what you want to say, start rehearsing it out loud to get a sense of the timing.
You will likely have to change or refocus your eulogy several times before you get it dialed in completely. This step in the process generally takes the most time and effort.
Embrace Emotions While Speaking
When it comes time to deliver your eulogy, embrace your emotions while speaking. Instead of focusing on perfection, just try to get through your eulogy from beginning to end. Read from a paper, take deep breaths, pause often, and keep a steady pace. If you cry or get emotional, remember that it is completely normal and that it may even comfort the other people who are mourning with you.
By following these steps and speaking from the heart, you can create a eulogy that honors your loved one and celebrates their life, no matter how short or long. Your words have the power to bring solace and light in the midst of grief, reminding everyone that, despite the sorrow, love lives on forever.