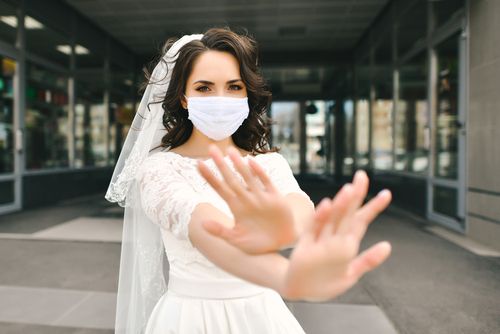 With the novel coronavirus outbreak, life has become even more unpredictable than before. We've been forced to adapt in many ways to stop its spread: working from home, shopping online, using social media more, and carefully timing our trips outside. Weddings have been significantly impacted, with many couples rescheduling or livestreaming their nuptials. If you're tying the knot later in 2020 or need to readjust existing plans, you may find a few resources helpful.
Wedding Website Resources and FAQs
Several wedding websites have beefed up their offerings, creating additional materials to help nearlyweds plan during the COVID-19 pandemic. Wedding Wire provides a detailed FAQ, a resource guide, and several articles covering a wide range of topics: how to reschedule, finding attire, registry tips, honeymoon alternatives, and more. Both The Knot and Zola published COVID-19 wedding guides, and Brides' editors revealed the top questions asked by couples about planning during the pandemic.
Postpone or Not? Some Quick Suggestions
The Knot's Esther Lee offers advice on how to adjust your event's timeline during the pandemic. Currently, experts advise postponing if your original date is in May or June 2020. Those with July or August dates should watch COVID-19 developments, speak with their vendors, and make a decision by the end of May. For nuptials slated for September and afterward, they suggest that you can proceed with planning while cautiously monitoring current events. You can check with the CDC and the State Department for ongoing updates. A Practical Wedding lists a few recommendations: Having backup plans, understanding your contracts, and considering both your location and timeframe are vital in assessing and adjusting your plans.
How To Work With Your Vendors
Brides' Maggie Kreienberg lists several questions you should ask your vendors when discussing your wedding plans in light of the coronavirus epidemic. Email is the best method of communication, Kreienberg says, because you can communicate your concerns and your vendors will respond in writing. When working out alternate plans with your service providers, you'll need to confirm some important details:
Available dates
Rescheduling fees
Procedure changes related to COVID-19
Applying deposits to a new date
Fees based on original and new guest counts
Besides these particulars, you should also discuss how you and your vendor will handle contract and service changes. You may end up swapping out menu selections, choosing different flowers, picking different beverages, or changing your original location to a sister venue. The key is to be flexible and treat this as a collaboration between you and all your vendors.  
Notifying Your Wedding Guests
The great thing about wedding planning in 2020 is that you can get a lot done while you're socially distancing. Thanks to technology, you can accomplish at least 70% of your planning tasks online. That turns into nearly 100% during the COVID-19 age, of course, but many major wedding sites have arsenals of tools that help shorten your to-do lists. You also have a wide range of options for communicating with your guests:
Post your change of plans on your wedding website. That includes your new date, plus additional details as they become available.
Consider sending either online or paper "change the date" cards.
For guests who aren't tech-savvy, Zola advises using traditional methods to let them know about your new plans.
Don't forget about texts and email blasts, which can reach a lot of people at once.
Keep a Positive Outlook
If you've had to change your wedding plans because of COVID-19,  know that millions of people around the world share your frustration and disappointment.  As you figure out your next steps, remember to use all the available resources you can and collaborate with your vendors. Above all, be gentle on yourselves and keep your goal in sight. Perseverance and a positive outlook can help you weather these storms.