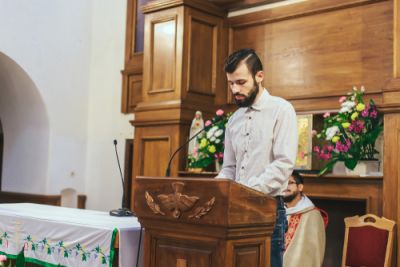 While making schedules, drafting budgets, and nailing down details, it's easy to overlook wedding readings. Including them is optional, but they can add a dimension of meaning in your ceremony. You probably have many questions as you choose your selections, so a few helpful guidelines can make the process easier.
How Many Wedding Readings Do We Need?
As Brides writer Jaimie Mackey mentions, most wedding ceremonies last between 20 and 30 minutes. With that said, your ceremony length will largely dictate the number of wedding readings to incorporate. The Spruce's Nina Callaway explains that most weddings have two or three readings, but you should include only one if you're featuring special music or a soloist. Too many readings or music pieces may overshadow your vows and lengthen your celebration, which can tire out or bore your guests.
What Types of Selections Can We Use?
When considering readings for your wedding, you have many potential sources from which you can pick. Wedding Wire's Kim Forrest lists several kinds of texts you can use: poems, book passages, excerpts from speeches or essays, song lyrics, or even television show or movie quotes. Keep in mind that you may be limited to religious scriptures or poems if you're having a sacred ceremony, but this depends on your faith's guidelines for weddings. Check with your officiant for more details.
Whatever pieces you wish to use, it's wise to review them and ensure they're appropriate for a wedding ceremony. You will probably avoid anything that may make guests feel uncomfortable, including crude language. Also, be sure that your selections can be easily understood by a general audience.
How Long Should Our Readings Be?
Ideally, your readings should comprise no more than five minutes of your ceremony. Each wedding reading should last between one to three minutes, but it's a good idea to pair longer and shorter readings together for contrast and continuity. In another Brides article, Jaimie Mackey places ceremony readings between the opening remarks and exchange of vows. This leaves room for any unity rites and the final blessing before the ceremony ends.
How Can We Choose Pieces That Complement Our Ceremony?
You should definitely keep your ceremony's tone in mind when you're picking reading selections. However, you have more latitude with this than you may realize. Think of your wedding like a piece of music, composed of different sonic qualities and textures. Its theme behaves like the rhythm section, delivering the pulse and beat that unifies the whole. If your vows are the melody, then your readings can serve as the harmony or counter-melody.
In her article for The Spruce, Nina Callaway offers some suggestions on how to create balance with your wedding ceremony readings. For example, you could pair a humorous reading with a more serious selection. Sentimental or romantic pieces work well when matched up with lighter ones. If you have flexibility in designing your event, you may choose one religious piece and one secular piece.
Who Should Deliver Our Ceremony Readings?
When picking your ceremony readers, take just as much care as when you selected your pieces. Some couples ask friends and family to read before choosing the readings, while others determine their readings before recruiting readers. Either way, make sure that each piece and its reader are suited for one another. Longer or complex passages should be assigned to those with a lot of public speaking experience, while simpler ones can be given to children or less experienced individuals.
Your ceremony readings can say a lot about your values, sentiments, and hopes for your marriage. Choosing pieces and readers that fit well with each other and in your ceremony will help convey the sentiments you desire on your special day.