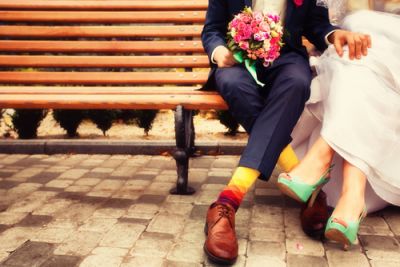 Planning a wedding requires creativity, organization, and ingenuity. With couples adopting individualistic approaches, it's no surprise that vintage weddings continue to be popular. Taking inspiration from trends and styles from time past, you can design a beautiful event that fits your goals and budget.
How Do You Define Vintage?
What do you think of when you think of the word "vintage"? Is it an elegant speakeasy with Art Deco style and glamorous people drinking and dancing the night away? Do you picture height-defying hairstyles, bold black eyeliner, and slick soul tunes sounding from a turntable? Perhaps you think of voluminous hair piled into buns with high-necked lace dresses?
That's the thing about "vintage." It can be hard to pin down since it's such a broad term, and it shares some overlap with words like "retro" and "throwback." The key lies in connotation, which is why it's a good idea to decide exactly what you want for your wedding. Your retro or vintage wedding vision will ultimately define the decisions you make and the details you select.
Choosing a single decade or era is a great starting point, but keep in mind that you still may need to narrow your time period and aesthetic down even further. For instance, your 1960s-themed nuptials will look a lot different if you use mod culture for inspiration versus late 60s counterculture influences.
Choosing Your Venue
Flexibility is key when you're selecting a venue for your vintage or retro wedding. While many locations are incredibly versatile, others lend themselves better to certain themes or aesthetics. The Knot's Andrea Fowler mentions that a ballroom could be an ideal site if you're hosting an Art Deco 1920s celebration, for example, but it could work just as well for an upscale 1950s-themed event. Meanwhile, some themes can feel right at home hosted in many kinds of venues. You could throw your 90s-themed wedding in a converted gymnasium, at a restaurant, or even on a beach. Whatever you select, make sure it fits your aesthetics and budget and the comfort requirements of your guests.
Details Form a Cohesive Whole
When you're designing your wedding, details help support your theme and contribute to the event's ambiance. Your guests may form their expectations based on your invitations, wedding website, and any particulars shared by word-of-mouth. Surprising them with unexpected touches can be a good thing, but the choices you make should support your celebration's overall look, sound, and spirit. That includes everything from décor and invitations to your attire and music.
Don't be afraid to think beyond the conventional when it comes to selecting these key details. Your 1980s wedding doesn't have to include bright neon, poufy sleeves, and mall-worthy hairstyles. Pop Sugar describes how one couple went with deep purple, ivory, diamond, and pearl accents, paying homage to the late musician Prince. Keep in mind that you can also incorporate modern staples into a throwback theme or go with a fresh take on older trends. You probably wouldn't serve aspic molds at your 1950s wedding, but many contemporary foods would be right at home in your reception. Mixing vintage and modern ideas can keep your event from appearing over the top or tacky, unless you're deliberately trying to evoke a fun and kitschy feel.
Have Fun and Plan Wisely
Despite all the challenges you face in balancing budgets and expectations, planning your wedding also allows you to express yourself. Vintage and retro themes offer a lot of latitude, presenting you with a wide range of ideas from which you can draw inspiration. The usual advice applies: drafting a reasonable budget, following a planning timeline, and shopping for vendors carefully. Yet with a thoughtful approach and deliberately selected details, your throwback wedding can be fun, stylish, and enjoyable.