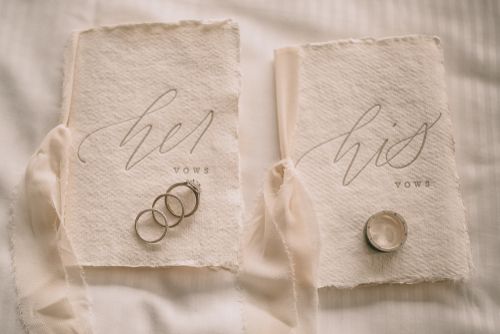 Technology is amazing. It's incredible to think about what all technology does. Most people use it daily, and it has become a staple for just about everyone. Even more astonishing is how useful artificial intelligence has become and how much it can do. However, is AI a viable tool to pen wedding vows? Take a closer look at all it can and cannot do.
AI's Amazing Abilities
People can use AI to write their English papers, give advice, or explain medical procedures to them. However, most schools and universities consider using an AI bot to write a paper cheating, so they have put AI detection software in place to determine whether a person or a bot wrote the document.
Now, some people are using AI to write their wedding vows. While the bot has limitations, it writes beautiful wedding vows that can apply to many couples. However, some are concerned with how much AI replaces personability.
Marriage Experts Weigh In
While AI can do a lot and make our lives much more accessible, it's important to remember that it should not replace human emotions and ways of thinking. For example, when people choose to write their wedding vows, they typically want to do it because they want it to be more personable and fit the relationship better. That's more difficult to do with a bot that creates generic marriage vows, no matter how beautiful or well put they may be.
Greg Smalley, a marriage counselor in Colorado, has concerns about how future married couples are using the bot. People type something like "write my wedding vows" into the generator and up pop several paragraphs of beautifully written marriage vows. However, people must read them thoroughly and see what they are getting into.
Marriage vows are not one size fits all, particularly when they differ from the traditional ones. Every relationship is different; a promise made in one marriage may not work in another. For this reason, it is crucial to read the vows thoroughly and ensure there is nothing disagreeable. Doing this a few times is essential to catch everything. 
Use As a Guide
Smalley recommends using the AI tool as a guide instead of using it to write wedding vows. It can be a great starting point when feeling stuck or dealing with a case of writer's block. It can also help put thoughts and feelings into eloquent wording.
However, it would be best to individualize and personalize it to fit the relationship. Perhaps some may get keywords or specific phrases that they like, but they should use them to craft their own individual vows instead of copying and pasting word for word.
Expand on the Basics
When writing wedding vows, use the basics as the bread and butter and add personal touches. Some things to think about including in some way are:
Say I love you
Promise to be there through the good and the bad
Tell a personal story
Acknowledge the need for support from others 
Use these ideas to expand upon and write the vows that best fit the relationship. It helps to start writing wedding vows early to avoid panic or a time crunch later. And remember, it's okay to use the traditional vows if one doesn't feel they have the time or desire to write their own.
Above all else, people should avoid pressuring themselves when writing vows. It doesn't have to be perfect; all that matters is expressing love and devotion to their partner while committing to them forever. To do this, write from the heart instead of worrying about things sounding perfect.