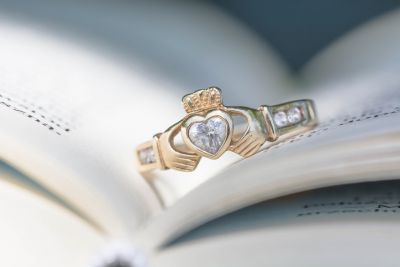 Your Irish ancestral heritage or the beauty in their cultural traditions might inspire you to incorporate Irish elements into your own wedding. It's uncertain how long Christianity existed in Ireland before St. Patrick's arrival, but there are plenty of customs and imagery from both Christian and pagan sources. In crafting your celebration of love, try including some of these meaningful elements to give your nuptials an Emerald Isle feel.
Something Blue: the Classic Irish Wedding Dress
The white wedding frock is primarily a Victorian invention, first debuted by the trendsetting British queen when she tied the knot with Prince Albert in 1840. A March 2017 Irish Central article points out that prior to the immense popularity of snowy bridal attire in the Western world, Irish women donned blue to wed their beloveds. If you'd like to honor your ancestors or aren't thrilled at the prospect of a white gown, blue can be a lovely alternative. The Knot contributor Andrea Fowler showed several examples of dresses in this color, from shades ranging from pale baby blue to sapphire to rich navy.
The Claddagh Ring: Love, Loyalty and Friendship
Claddagh rings include a distinctive design of two hands clasping a heart that's festooned with a royal crown. Alongside pieces featuring Celtic knot patterns, these rings are also fashionable among lovers of Irish-inspired jewelry. The Galway County Council's public library site houses a document detailing the history of the Claddagh ring, which gained popularity outside the area during the 18th century.
Named after a fishing village in the Galway region, the Claddagh is just one type of "fede ring," which is stylized as a metal band featuring two hands that meet and clasp. Since Roman times, fede rings have been used as engagement or wedding bands throughout Europe. In the case of the Irish version, the hands are said to represent friendship and the heart symbolizes love, while the crown stands for loyalty.
Fruitcakes: Not Just for Christmas Anymore
While you might be more familiar with fruitcake consumption during the winter holiday season, this often-maligned dessert may have origins in ancient Rome. Their versions usually included pomegranate seeds, pine nuts and raisins, but The Knot reveals that Emerald Isle varieties consumed at weddings are usually packed with cherries, raisins, almonds and spice. Depending on who makes your densely sweet confection, it will be soaked in bourbon, brandy or Irish whiskey.
What About a Samhain Wedding?
Samhain (pronounced "SOW-in") begins at sunset on October 31 and ends at sundown on November 1. It was a holiday celebrated by pre-Christian Celtic peoples to signal the end of harvest season. Furthermore, it's also major day of celebration in several Neopagan traditions, including Celtic Reconstructionist schools and Wicca. It is a time when Celtic legends say that the veil separating the worlds of the living and the dead thinned, with portals open to spiritual realms. Depending on your spiritual beliefs, you could be inspired to hold your nuptials on this otherworldly date. Pagans planning to celebrate Samhain by itself might pick the next full moon after the holiday to tie the knot.
"Go Maire Sibh Bhur Saol Nua!"
No matter how you and your beloved craft your wedding celebration, the point is to start a long and beautiful life together. "Go maire sibh bhur saol nua" (pronounced as "Guh mwir-eh shiv voor say-ol nu-ah") is a traditional nuptial blessing in the Irish language that means, "May you enjoy your new life." It's up to you to fashion your ceremony and reception as a reflection of your aesthetics, values and love as a couple. Infusing cultural traditions is just another way to make your special day unique.