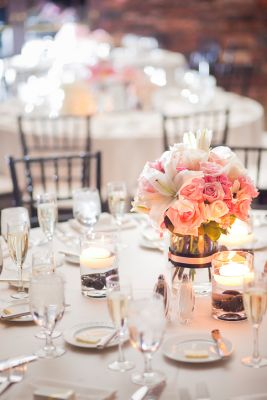 With changing economic realities, more couples seek to make do with less when it comes to planning their weddings. TheKnot.com revealed that most newlyweds-to-be spend nearly half of their funds on their receptions, so this part of the wedding day budget is a ripe area in which one can save a little extra green. From decorating hints to choosing the time of your festivities, celebrating your new love for less may be easier than you think.
Choose a Less Popular Time and Day
Saturday evening is the time slot in which many couples traditionally tie the knot. However, it is not the most cost-effective. Forbes Online contributor Neal Frankle suggests holding your wedding on another day of the week, which can save you up to 10 percent alone. That's because venue and food prices are often lower than on Saturday evenings, and fewer guests may attend an off-day celebration. Additionally, shifting your ceremony and reception to earlier in the day could cut a chunk out of your total bill. Breakfast, brunch and lunch food choices often feature lighter fare that's easier on the wallet, and you'll also probably spend less for alcohol at those meals. Finally, caterers and venues may charge lower rates to help attract more business during these less popular time slots.
Marry in an Off-Peak Month
The time of year in which you say "I do" can also impact your expenses significantly. June and September are usually peak months in which to wed, as well as February and December due to the popularity of Valentine's Day and winter holiday season nuptials. Keep in mind that if your ceremony will be held in a Christian house of worship in December, it could become a case of "six in one hand, a half dozen in the other." That's due to the possibility that you might pay more for a reception venue but spend less to already existing Christmas decorations in your church.
It's also prudent to consider how climate patterns can affect what is considered "seasonal" for weddings in your area, and book accordingly. For instance, August might be a favorite choice for weddings in Alaska because of the pleasant shift away from the area's normally frigid cold, but not so much in Ohio due to unbearable summer heat. Couples who don't mind some precipitation and lower temperatures could save big with a January, February or March nuptial date, according to Brides online.
Trim Your Flower Budget
Flowers customarily make up about 8 to 10 percent of nuptial expenses, but some of that is used for decorating the reception space. Consider cutting your wedding florals back to the absolute essentials for the ceremony, such as wedding party arrangements and those for the altar, huppah or other ceremonial focal spaces. You might also opt for just a few key arrangements for your reception area, such as on your cake table. For alternate ideas to brighten up your space, A Practical Wedding recommends inexpensive party decorations bought in bulk. The right balloons and ribbons can lend a unique look, and Money Crashers suggests candles, strings of lights and natural objects such as shells and beautiful stones to work into your site décor. Selecting an outdoor location with natural beauty, such as a beach or garden, may slash your floral expenses as well.
Be Flexible
The money-saving moves you make when planning your nuptials rely on your willingness to be flexible. If you have your heart set on a Saturday evening affair, be prepared to fork over the higher costs with it or decide on more frugal food and venue options. By carefully selecting your cost-cutting strategies, it's possible to still throw a beautiful fête on a budget for you, your future spouse and your guests.