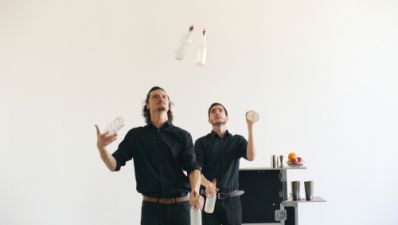 Wedding Wire's Stephanie Weers cites mobile bars as a major wedding trend for 2020. That's no surprise, with mixology's growth in the last few decades and the rising popularity of specialty cocktails. A mobile bar can elevate your celebration and give it the vibe you want. Making wise choices is the key to success, especially when it comes to your vendors. Read on to learn more about mobile bars and how to select the best one for your big day.
Mobile Bar Basics
If you're even thinking about a mobile bar, you're already considering how your drink offerings affect your guests' experiences. Brides writer Danielle Deavens mentions a recent survey in which respondents cited drink selection and quality as a top wedding reception priority. A lackluster drink menu can put a damper on your celebration, but Deavens suggests that a mobile bar can eliminate this problem.
Deavens also describes how mobile bars work. Vendors bring their completely stocked bars to special events and serve right out of their vehicles of choice. Mobile cars come in many different forms: trucks, trailers, carts, vans, wagons, and more.
Like food trucks, these vehicles are specifically designed and set up for proper preparation, storage, and service. Depending on the provider, your mobile bar can serve everything from microbrews and craft cocktails to champagne and big-batch mixed drinks. Your mobile bar also comes with trained bartending staff ready to cater to your crowd.
Before searching for a mobile bar company, you need to keep a few things in mind. First, you should consider your venue. You need to check with management and find out whether outside alcohol service is permitted. Some venues will insist that you use their bar and bartending staff. With state parks and other outdoor public venues, local ordinances could require permits. Your jurisdiction may prohibit open containers, so be sure to research the laws in your area.
Tips for Selecting Your Vendor
Just like choosing any other vendor, you need to understand your options when you want to hire a mobile bar. You want a reputable company with experienced professionals and the right drink selection for your event. Try starting your search with wedding vendor directories such as The Knot or Wedding Wire. Yelp! or Thumbtack may also list local mobile bar companies, along with customer ratings and feedback. Pay attention to these reviews, as they'll offer clues as to what you can expect upon hiring a vendor.
Once you have a list of prospects, your next step is to research them. You can first contact through telephone or electronically, but that's just to ask them a few questions and obtain some basic details. You should also meet with these providers in person. This allows you an opportunity to observe how they interact with you as well as discuss more details about their services. These in-person meetings also let you see their mobile bars' aesthetics and possibly meet the staff you'll be working with at your reception. You should check out their drink menu, but Martha Stewart Weddings' Caitlin White lists other details you should inquire about:
Tipping protocol
Procedure for handling intoxicated guests
Whether attendees can order shots
Cleanup and bussing services
Staff uniforms and appearance
How the provider serves its beer
Hourly rates and other fees
Ideally, you'll choose a mobile bar company that fits your event's vibe, drink menu requirements, and budget. As with other vendors, read all contracts carefully before signing or paying any deposits.
Stepping Up Your Drink Game
Your wedding's drinks selection is just one detail out of many, but your guests will remember it long after the event's over. A mobile bar can offer better drinks, a larger selection, and stellar service. Research, evaluation, and following your priorities are all key to choosing the best provider for your event.