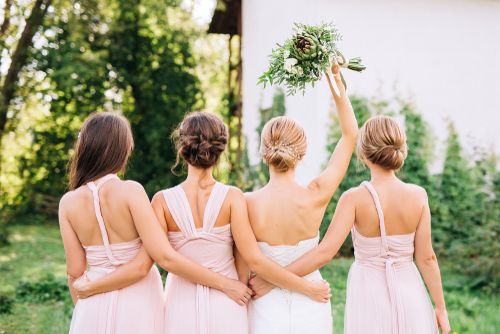 Few people will be more critical than your maid of honor when selecting your bridal party. She will be the one who is by your side during the wedding planning and will likely be the one who coordinates many of the events. Whether you have chosen a family member or friend for the job, it can be challenging when your maid of honor is making things difficult or simply not cooperating. If you are dealing with a problematic maid of honor, there are a few things you can do to help diffuse the situation.
Offer To Help
If your maid of honor is not fulfilling her duties, she may be overwhelmed. Offer to help her out. Ask her how to make her tasks easier and lighten the load. If she has other responsibilities, such as a family or a job, then she may not have enough time in the day to do everything you have asked her to. Keep the lines of communication open so that she feels comfortable coming to you if she needs help.
Approach the Topic Gently
Do so gently when you approach your maid of honor to express concerns. This person is essential to you, and you don't want your wedding to be the reason your relationship ends or has issues. This is especially true if you think she will be sensitive to hearing about a problem. Keep a gentle tone, and come from a place of concern rather than sounding accusatory. This will help ensure that she does not feel attacked or defensive.
Ask Your Other Bridesmaids
Remember that other people in your wedding party would likely love the opportunity to participate more and play a more significant role in your wedding. So be bold and ask them for backup. See if you can delegate some tasks to other bridal party members to lighten the load. You can even make a night out of it. For example, if there are decorations that need to be made, then make it a night in that you all spend together. Rent a movie, get some snacks, and enjoy your time together while you accomplish a lot.
Communicate
Ensure your maid of honor isn't struggling because you aren't communicating with her. She can't read your mind and may be unable to anticipate your needs. Communicate with her about what you need her to do and what you want her role to be. In addition, ask her if there is anything you can help her with or anything that she does not think she can do. Keeping the lines of communication open can relieve stress for both of you.
Keep It to Yourself
At the end of the day, you have to decide whether bringing it up is worth it. It may be better to find a different approach if you think it will hurt your friend's feelings or make her angry. See what tasks you can take on yourself or delegate to others without confronting her. If you need to, vent to a friend who is uninvolved in your wedding party and does not know your maid of honor. This can help you release some steam without hurting your relationship with your maid of honor.
Wedding planning can be stressful, especially when you are having issues with your maid of honor. Do whatever you can to preserve the relationship, as you don't want your relationship to have problems moving forward. Keep the lines of communication open, and when extra help is needed, don't be afraid to call in reinforcements. Above all, remember that while your wedding is an important day, your relationships are even more important, so do what you can to keep the wedding planning drama free.