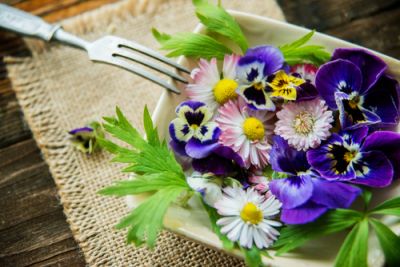 Green weddings are here to stay. As more couples design environmentally friendly events, they search for vendors, venues, and products that fit their visions. Given these developments, Wedding Wire's prediction of edible flowers as a 2020 wedding trend isn't a surprise. With delightful hues and flavors, these blooms offer many culinary possibilities.
Waste Not, Want Not
Edible flowers aren't a new idea. They've graced our plates and flavored our drinks since ancient times, as blogger Erin Nudi explains. In many cultures, healers used them to treat a wide range of ailments. If you've ever drunk jasmine tea or eaten dishes containing saffron, you've experienced some of the culinary wonders that flowers create.
Besides flavoring our food and beverages, edible blooms offer obvious decorative possibilities. Fresh flowers on your wedding cake are great alternatives to fondant or buttercream blossoms. Not only can they potentially reduce your dessert's total cost, but they help craft stunning visual displays. From traditional formal celebrations to rustic-themed weddings, fresh flowers can give your cake a colorful and flavorful boost.
In her Wedding Wire piece, Kim Forrest discusses a wide range of edible flower uses. Cake décor is a typical option, but Forrest predicts that they'll pop up in everything from salads to ice cubes. Thanks to these innovative ideas, you can choose food-safe varieties that can also do double duty in your site's décor. With this strategy, very little organic material goes to waste.
Professional Guidance Is Key
Of course, picking your petals isn't as simple as harvesting them and putting them into your food. First, you should ensure that you choose food-safe flowers. Try collaborating with your caterer, baker, and florist to select edible varieties. Some typical choices include roses, lavender, pansies, lilac, and hibiscus.
Meanwhile, some cooks are incorporating less common varieties into their cuisine. Southern Living mentions a few of these: sage flowers, violets, nasturtiums, and calendula. As a bonus, many of these flowers are versatile enough to fit a wide range of wedding themes and styles. What's Cooking America's edible flowers chart is another excellent resource, describing their flavors and common uses.
Brides writer Stephanie Cain recommends using locally grown seasonal versions whenever possible. Even better, you can work with a sustainable florist that partners with local farms or grows its own varieties. Bloomberg's Rachel Tepper Paley mentions programs such as Veriflora and Bloomcheck that certify cut flowers and greenery as sustainable, organic, or both. Suppliers become certified by meeting rigorous standards. Some examples include avoiding toxic chemicals, paying fair wages, and practicing smart water management. Local Flowers offers a search feature to find growers, florists, and designers in your area.
Watch Out for Allergic Reactions
Imagine designing a beautiful wedding that integrates edible flowers in your décor and cuisine, only to find that one of your guests is allergic. Fortunately, you can avoid scenarios like these with careful planning. The Spruce's Peggy Trowbridge Filippone mentions composite-type flowers that are common allergy triggers:
Calendula
Chicory
Chrysanthemums
Daisies
English daisies
Marigolds
This list isn't exhaustive, however. It's a good idea to ask your guests about any allergies or dietary restrictions they have. You can do this during the menu planning stage, which typically starts right after hiring your caterer. Brides recommends scheduling your final tasting four months before the big day. Invitations are normally sent two to three months in advance.
Eco-Friendly Multisensory Delights
Flowers add beautiful touches to any wedding, but they can do more than just look pretty. When incorporated into your cuisine and desserts, they can add unique flavor and reduce waste. With good research and help from your vendors, you can make smart choices that give your event a unified feel.