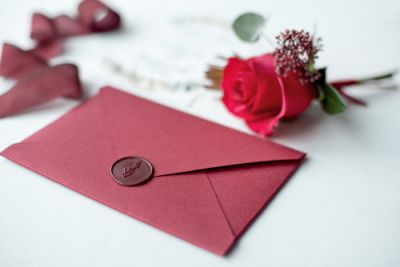 Designing your wedding invitation can be a fun way to stretch your creative muscles. From selecting stationery to exploring color schemes, there are many different ways to put your personal style on your invitations. Of course, you also need to make sure you're following a few rules. Couples tend to make the same mistakes when designing their invites. By paying attention to the most common flubs, you will have a far easier time developing a wedding invitation that matches your style and gets all pertinent information to your guests.
Though planning a wedding can be a stressful experience, creating your invites does not have to add fuel to the fire. Be sure to avoid these common mistakes and deliver some fantastic wedding invitations.
Focus on Functionality
Creating custom wedding invites can be a slippery slope. Many couples are enticed by the opportunity to create invites that reflect their own styles. Of course, design is only one part of the equation. You also need to make sure your invitations are functional. One common mistake couples make is overdoing the design without taking certain details into consideration. You need to get vital details to your guests and the wedding invitations need to lay this info out in a way that is simple and easy to comprehend.
You also want to make sure you aren't cramming all of the information together. No matter how much you love a particular design, you absolutely need the text on the invites to be easy to read and digest. Shoving all the information onto your invites without thinking about the layout can create a ton of problems down the line. Make life easy on yourself and your guests by playing with a few designs and ensuring your final option is one that can be interpreted without any room for error.
Reread the Content
Most couples spend a lot of time ironing out all the details of their weddings. Sadly, this doesn't mean all mistakes are avoided along the way. Another common problem made by couples while designing their invites is typos. Nothing is worse than looking at your invitations after they have arrived from the printer and noticing the name of the venue is incorrectly spelled. Before finalizing your design, it is imperative you thoroughly read all of the information to make sure everything is correct and that there are no typos lingering around. It's a good idea to have your fiance or another person read through the invite as well, in case you are glossing over an error.
Basic human error can also create problems with your wedding invitations. While addressing each envelope by hand might seem like a sweet and personal way to finalize your invites, this idea can also bring about a lot of problems. You'll have a lot of envelopes to address and your hand is definitely going to get tired. To prevent any mistakes from occurring, it is best to either print the envelope labels or go to a professional who can address them and ensure each bit of information is correct before they are mailed out.
Too Much Time
One final mistake to think over before finishing your events is the RSVP date. Giving your guests too much time to reply can slow down your process. Get your headcount as soon as you can, because giving guests a lot of time to decide whether or not they're coming can make receiving that final number impossible. A good rule of thumb to follow for your own sanity is to set the RSVP deadline roughly four weeks after the invitations are received by the guests.
While wedding invitations are an important aspect of planning for your big day, make sure you're following the right steps to keep everything clear. Take your time with the invites, check for spelling errors, and get ready to mail out a vital aspect of your big day.