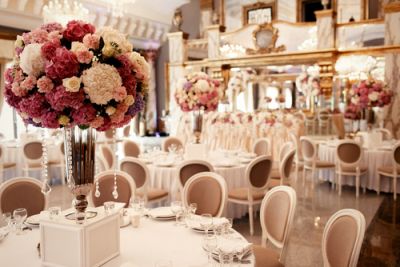 Wedding planning involves a lot of large and small details. Organization is important, especially when it comes to setting up your venues. Yet with so much to do, how do you keep everything together and running smoothly? Follow some wise advice, and your ceremony and reception locations should look spectacular and be ready to go when the big day arrives.
Read Your Venue Contracts Carefully
Before you start planning, you should carefully review the agreement with your venue. The Knot spells out several details that should appear in any venue contract, such as the date and time of your event, an itemization of total costs, anticipated guest counts, cancellation and refund policies, and any extras you've requested.
At the same time, the contract should also contain a description of the venue's interior. Key details include such things as wall colors, flooring type, fixtures, and additional amenities. Read these thoroughly and pay attention to vendor policies concerning decorations, wall hangings, and the use of fasteners such as tape or nails. Should you inadvertently leave behind any damage, the venue will likely charge you to cover its repairs.
Consider Your Ceremony and Reception Layouts
Your space's physical layout will impact both your décor options and setup plan. Brides writer Jaimie Mackey offers some useful advice on how to map out your reception space:
Choose the locations of your dance floor and stage first.
Next, determine the size and shape of your tables.
Arrange your tables symmetrically and evenly around the dance floor, placing the head tables in a location with the best view.
VIP tables, especially those with elderly guests, should be placed farther away from the band, speakers, or DJ booth.
Place your bars in accessible areas, leaving plenty of room for guests to pass by and mingle during cocktail hour.
Logistics of Your Setup Plan
After you've begun working with your florist and planning which items you must purchase to complete your décor, it's a good idea to start creating your venues' visual schemes. A Practical Wedding's Allison Davis mentions some vital logistics that you should determine first:
Items that must be taken to your event
Means of transporting décor, supplies, and other essentials
How many people you'll need
Estimated setup time
Items leaving the venue after the wedding
How your leftover items will be transported
To keep everything organized, draft a packing list and label each container with its contents. Your plan should also include any non-décor items you must bring yourself, such as tables, chairs, place cards, programs, menus, and favors. For additional help, you can work with your coordinator or planner to form your teams or hire local assistants. If you're DIYing these tasks, consider recruiting folks in your social circle as extra pairs of hands.
Don't Forget About Scheduling
Wedding Ideas' Lauren Fraser discusses the importance of scheduling your venue prep well ahead of your big day. Find out how early your venue will permit your teams to get started. If you're stuck waiting until the morning of your wedding to get your space ready, consider enlisting help from your wedding planner or hiring a stylist to coordinate these activities.
The layout plan you crafted early should serve as an excellent guide for both your assistants and outside vendors such as your florist, baker, or furniture rental company. To ensure that you don't run out of time, allow around two hours for your team to set up your space.
An Organized Approach for Best Results
Your ceremony and reception venues won't decorate and arrange themselves. Successful setup relies on a plan that spells out aesthetics, materials, physical layouts, and people. These details, along with a well-organized schedule, ensure that these spaces are ready for your big day.
Category: Wedding Planning