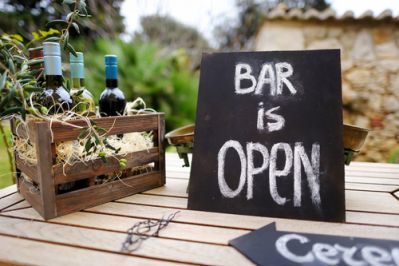 Traditions and etiquette standards have changed a lot within the last 50 years, shifting as our social landscape has altered and technological innovations have impacted our daily lives. Some customs that would have been commonly observed in the past have either dramatically transformed or fallen completely out of practice. Yet one wedding reception choice remains hotly debated even today: the cash bar. With some arguing that it's a practical move and others insisting that it's tacky, it's worth breaking down both arguments to better understand the reasons behind them.
The Pros and Cons of Cash Bars
If cash bars are regarded as such a horrible breach of etiquette, why do some couples consider offering them at their wedding receptions? In an April 2016 Glamour article, writer Jillian Kramer cites three typical reasons given by readers:
Full open bars can become costly, especially for nuptials with larger guest lists.
A cash bar may discourage overindulgence and by extension, driving while intoxicated.
There's a much smaller chance that drunk guests will become unruly and ruin the event's atmosphere.
However, Kramer points out that public opinion is still deeply divided about cash bars at weddings. Some feel the move can be justified under certain circumstances while others maintain that it's offensive. Several kinds of objections rise to the surface among the latter group:
Invitees traditionally expect an open bar.
It doesn't reflect good hospitality from the couple.
It's an insult to guests who have spent time and money to attend an event.
What Do Etiquette Experts Say?
Multiple sources insist that having a cash bar at your wedding is unwise. "When you have a wedding, you're inviting people to a party, and they shouldn't have to pay for anything while they're there," says The Knot. Huffington Post columnist and wedding planner Sandy Malone echoes the idea, adding that the practice "violates just about every possible rule of etiquette for properly hosting the event."
Meanwhile, the Emily Post Institute doesn't explicitly say that cash bars are bad etiquette, but lists only transportation, lodging, and gifts as typical expenses that wedding guests pay. While the guide breaks down wedding costs along traditional lines, the overall consensus is that whoever's hosting the party should pay for food and drink — whether that's the happy couple, their parents, or both.
Alternative Choices for Your Wedding
For couples who don't have room in their budgets for a full open bar, Jaimie Mackey suggests several solutions in an October 2016 Brides piece. One possibility is to provide a limited open bar with a few wine and beer selections, along with one or two signature cocktails. You can specify both lighter and heavier varieties that cater to your guests' tastes while keeping costs reasonable. Alternatively, you could offer an open bar up to a pre-set dollar amount, then switch to a cash bar for pricier drinks. Another solution is to include a full open bar during cocktail hour, then shift to wine and beer only for the rest of the event. If you're thinking about nixing alcohol entirely, Bridal Guide lists a few suggestions for a booze-free event. Try including upbeat and engaging entertainment for your nuptials, scheduling your ceremony at an earlier time of day, and adding mocktails to your drink menu in place of alcoholic versions.
If you're worried about alcohol consuming a large part of your wedding reception costs, be mindful that there are potential solutions that will keep both you and your guests satisfied. Standard practices suggest that limited open bars are much better than cash bars, and you can carefully plan a dry wedding if you include plenty of highlights to ensure your guests stay engaged. When you judiciously balance both yours and your guests' desires, you can achieve an outcome that makes nearly everyone happy.