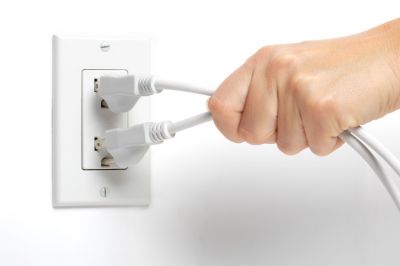 For many people, smartphones, tablets, and other mobile devices are essential tools for communication, organization, photography, productivity, and leisure. Yet with the chance of wedding pics spoiled by shutter-happy guests getting in the way of photographers and the desire to have guests mentally present to celebrate with them, some soon-to-be newlyweds are asking attendees to leave their phones in their pockets and purses during the festivities. If you're thinking of doing the same at your happy event, following some useful advice can help with planning and logistics.
Why Go Unplugged for Your Nuptials?
In a 2016 Huffington Post article, contributor Camille Abbott discusses the benefits of an unplugged wedding. While rapid advances in technology have put the power of high-quality photography into the hands of smartphone users, their enthusiasm to capture special moments can cause them to leave courtesy by the wayside. This can make matters difficult for your professional photographers, who might have to compete with a guest for shooting space or find photos ruined by flashes from cellphone cameras. With multiple guests shooting photos, you also lose control over what gets shared on social media. Additionally, they may be too absorbed in sharing those pics to pay attention to your ceremony and memorable reception moments.
On the other hand, going unplugged may have its downsides. Guests who love having mementos and pics may feel as if they don't have much by which to remember your special day until the photos are developed. Not only that, you also might regret losing out on having moments to share on social media in the days after you tie the knot. For those reasons, The Knot writer Maggie Seaver mentions that you can go the partially unplugged route, with no devices during the ceremony but permitting them during the reception.
Keeping Attendees on the Same Page
As you plan your unplugged or partially unplugged wedding, your first step is making guests aware of your wishes. The experts at Modern Weddings recommend the following tips:
Notify your guests in advance
Place an insert in the wedding program
Have your officiant make an announcement before the ceremony
If your after-party is also unplugged, inform guests with reception table signage
Your wedding invitations are the first place to let attendees know that you want a device-free event. When you mail out the invites, response cards, directions, and other critical information, be sure you include a note that explicitly says something like "no photos during the ceremony, please." Offbeat Bride has some great examples of wording you can repurpose for your own mailings. In case invitees forget, a note in the wedding program and an announcement by your celebrant should help drive the point home.
If you have additional requests, such as asking guests to refrain from posting photos of you and your spouse on social media, you'll need to mention these in your literature and on your wedding website. At the same time, one great compromise that can make your guests happy is asking your photographer to make a small set of shots available shortly after the ceremony to share on social media channels. Finally, be mindful of disabled invitees who need their devices for accessibility reasons — for example, a nonverbal autistic family member who communicates through a text-to-speech app.
Communication Is the Key
If you decide to limit device usage during your ceremony or reception, you'll need to inform your guests of your wishes. Furthermore, make sure you use multiple channels so that no one misses the message. Lastly, consider sharing a few shots on social media for your guests to enjoy and allow leeway for disabled attendees who depend on their mobile phones and tablets. With these smart moves, your unplugged or partially unplugged wedding will score high marks with both you and those celebrating with you.