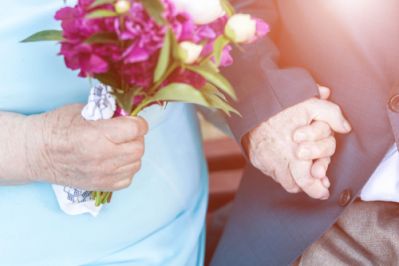 Second weddings have become just as epic as their first-time counterparts. Planning your new celebration may still involve a huge collection of important details. You'll need a methodical approach to pull your event together, but there are also a few etiquette and organization details to remember as you make arrangements to walk down the aisle again.
Some Old Rules No Longer Apply
The Spruce's Nina Callaway debunks the idea that second-time brides cannot wear white. Nearly any type of attire can be on-point for the celebration. Understandably, it's not a good idea to wear the same apparel you donned for the first ceremony. Callaway does suggest choosing a different fabric, silhouette, or style for your second time around. If you went with a princess ball gown or tuxedo last time, for example, you could select a sharply tailored suit or a sleek cocktail dress.
Having a full wedding party, throwing a big reception, and registering for gifts aren't off the table, either. Wedding Wire's Anne Chertoff reveals that the couple can choose whatever traditions they like for the reception, such as the first dance and cake-cutting ceremony. There's also no rule against having wedding attendants. Including your closest friends and loved ones can make your special day even better, and it's also a great opportunity to have your children participate.
The Knot clarifies that guests may be less likely to bestow you with presents, but it doesn't hurt to have a registry just in case. After all, there may be things you need or want for your home. Moreover, you'll offer guidance to attendees who do want to give you something special. Brides writer Courtney Balestier lists several ideas, including registering for experiences, honeymoon funding, museum membership, or even charities. You can also have celebrations such as showers and pre-wedding parties, but it's up to your honored attendants to make the appropriate arrangements.
Important Points To Remember
While many traditional views on second weddings have fallen by the wayside, there are still some vital things to keep in mind for your nuptial encore. Martha Stewart Weddings' Alyssa Brown mentions the importance of tact when announcing your upcoming event. Your inner circle should be the first to know, especially any children you have. It's a good idea to tell these individuals in person if possible, but you should do so before you send any paper or electronic announcements.
At the same time, you could opt to tell your former spouse directly. Provided you're not on bad terms with that person, the news may be better received if your ex doesn't hear about it secondhand. However, it's probably best not to invite that individual to your event. Things can get awkward fast, and there's always a chance that some of your own family may still hold grudges.
When you're in the early planning stages, be sure to keep your venue and officiant options open. You should have no special issues with reserving locations such as parks, barns, or ballrooms. With houses of worship, however, you may encounter problems. Your clergy can inform you of rules specific to your faith, but some religions do not recognize divorce and remarriage. Similarly, their rules may prevent your preferred clergy from performing the ceremony. Luckily, Universal Life Church ministers and officiants in progressive faiths aren't typically subject to such restrictions.
Your Wedding, Your Choices
There's no reason why a second wedding, or even third or fourth can't be as fabulous and exciting as the first. On the other hand, you may wish to keep it low-key or somewhere in between. No matter what you choose, you have many options for crafting your celebration. Just be flexible and keep a few etiquette pointers in mind to make it a success.