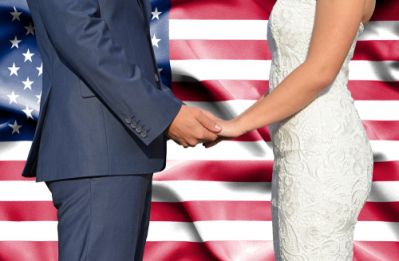 Getting married comes with a hefty price tag most of the time. Though there are great ways to tie the knot for less than a fortune, you need to take active steps to keep your costs in a reasonable range. One of the easiest ways to blow your budget is by selecting a venue before looking around for cheaper alternatives. In fact, you may be able to save a lot of money if you entertain the idea of changing your wedding location to a different part of the United States than you initially intended.
According to recent studies, certain states cost far less to throw a wedding than others. If you are looking to save money and still deliver an event that has your guests impressed, now is an excellent time to think over some of these less expensive US destinations!
The Last Frontier
Are you and your significant other big fans of the great outdoors? If so, then you may want to think about tying the knot in a place like Alaska. The vast, stunning landscapes that pepper this region are sure to capture your eye and inspire you for your own nuptials. Venues range from cozy, rustic lodges to mountainside resorts with gorgeous views that make for excellent backdrops for photos. The best part? The price of a wedding in Alaska is a lot cheaper than you might anticipate!
Recent studies state tying the knot in Alaska costs roughly $18,000. Out of all possible US destinations to get married, this state is remarkably inexpensive. It is important to note, however, many couples opt to get married in Alaska during the summer when the weather is the most opportune. You can still hold your wedding here during the winter, but you need to prepare for the serious chill and possible inclement weather before making your final choice.
Great Faces, Great Places
South Dakota is another worthwhile destination for couples looking to save a bit of money for their weddings. While it might not be the first location to come to mind when you're thinking about your big day, South Dakota has a ton of exciting perks. Above all, this state is loaded with natural wonders and landmarks from one side to the other. Plus, cities like Sioux Falls and Rapid City offer a host of venues amidst the sights, sounds, and excitement of these bustling urban areas.
Mount Rushmore, arguably one of the most famous landmarks in America, is located in South Dakota. While you may not be able to marry on the stone faces of former presidents, you can definitely consider an outdoor event to allow this iconic image into the background of your wedding photos. Similarly, the Badlands, Black Hills, and Deadwood are all excellent areas where you can get married amidst the captivating natural wonders of the state. The average cost of a wedding here is $19,000, making it perfect for those looking to save some cash.
Oh, Arkansas
Finally, Arkansas can make for a wonderful destination to get married when you and your partner want to save a bit of money on the experience. This state has a variety of options to consider, from the modern venues found in cities like Little Rock, Fayetteville, and Fort Smith, to more rustic locations that can be found all over the countryside of the state. Barn weddings have become quite popular in recent years and the many farms found around Arkansas make it an ideal location for anyone interested in this type of event. The average wedding cost here is $20,000.
Whether you marry in Alaska or Arkansas, there are some fantastic ways to limit your budget and still get a wedding you absolutely love. Look into other options and see which state is the right choice for you and your partner.
Category: Wedding Planning