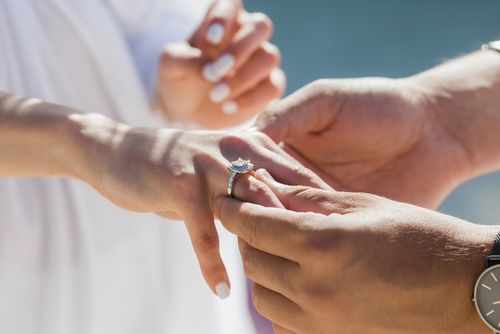 Are you overwhelmed by the idea of hosting hundreds of people at a grand wedding? Eloping is a romantic alternative that can save you time and lower your stress. Of course, there are still pros and cons to consider before making your final decision about how you want to get married. As a couple contemplating elopement, you'll find this guide invaluable in navigating the complexities of such a choice.
Pro # 1: Intimacy and Romance
Eloping offers a level of intimacy and romance that is hard to replicate in a traditional wedding setting. There's a unique sense of closeness when it's just the two of you exchanging vows in a secluded spot far from the crowd. 
When you're away from everyone else, you can create a ceremony that is personal and meaningful. You can choose whether or not to include religious and spiritual elements or simply honor your love by reading each other a letter.
Pro #2: Reduced Stress and Costs
Planning a traditional wedding can be a logistical nightmare and a financial strain. Eloping eliminates much of this stress. There are no guest lists to manage, no seating charts to agonize over, and no need to break the bank on a lavish reception. The money saved can be used for other important life goals, such as buying a home or embarking on a dream honeymoon.
Pro #3: Flexibility and Freedom
If you plan to elope, you will enjoy far more flexibility and freedom than you would planning a large wedding. You won't have to worry about choosing a venue or church that can hold your guests, which will give you many location options.
The same freedom applies to your choice for the time of day and time of year. There are no rules to follow except those you set for yourselves. You could get married at sunrise on a tiny beach in Thailand or exchange vows on the Cliffs of Dover in early spring. The options are endless.
Con #1: Missing Family and Friends
A significant downside of eloping is that you may miss having your friends and family by your side. Getting married is a big deal, and sharing that milestone with those you love makes it more special.
You always have the option of inviting a few people to your elopement. You could include your parents, a mentor, or a handful of close friends. Just because you want to elope doesn't mean you can't have a couple of your loved ones with you.
Con #2: Lack of Wedding Traditions
Most elopements lack many of the wedding traditions you might be used to. If you have always dreamed of making a grand entrance, walking down the aisle, having a first dance, cutting a cake, and more, then you might feel disappointed when you elope. This is even more true if you want to honor your religious, spiritual, or cultural background.
Con #3: Working Through Legal Issues
You might have to work through challenging legal issues and other logistical concerns to elope.  If you want to elope outside of your home country, research the marriage laws and regulations of your ideal destination. Many countries still don't allow legal same-sex marriages, so that may limit your options if you're a queer couple.
Finding Your Path to Happily Ever After
The decision to elope or have a traditional wedding is deeply personal. It doesn't mean you have to exclude your loved ones or forgo your favorite wedding traditions. What matters most is that your wedding day reflects your love story and creates lasting memories that you both cherish.
Whether you choose to elope or not, make sure it's a decision that resonates with you and your partner because it will set the stage for your new life together.