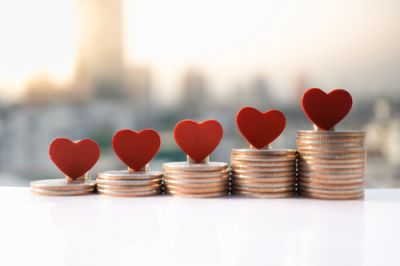 After all the excitement of getting engaged has died down, it is time for you and your significant other to get to work. Planning a wedding can take a bit of time, and you want to make sure you have all your bases covered before you start to delve deeper into some of the services offered for your nuptials. The biggest concern most couples tend to run into is the budget. Whether you've been saving for years or a few short months, it is entirely possible for you to make the most of your money.
Give yourself a moment to explore these financial tips for couples. A little research will help show how you can maximize your budget and turn your big day into an ideal moment in time.
First Steps
From the second you begin to plan your wedding, you might find yourself feeling somewhat overwhelmed or anxious about the process. This happens to plenty of couples, especially with how many wedding resources are available on the internet. A quick Google search of "wedding ideas" can reveal hundreds of thousands of blogs aiming to help with images, videos, quizzes, and every other piece of media imaginable. It can be enough for some people to want to switch off their computers and hide in bed for a few years.
Though feeling overwhelmed can be natural, you don't want to let it totally control you. There might be a lot of options available for you to consider during the process, but you can use this to your advantage. Instead of feeling frightened by the sheer volume of options out there, try and focus on ideas that stand out to you. When you begin to concentrate on the images and suggestions that appeal to you, all of the rest will start to melt away. It will take time, but work through the discomfort and find fitting options.
Hitting a Wall
Planning your big day is often a process that lasts for months. Once you've gotten through all the preliminary work, you may reach a point where you feel like you're hitting a wall. This is a natural part of the process, especially when you are trying to iron out your finances. With so many hours spent analyzing the details of your wedding, you might feel like you're too close to the event to really get an understanding of whether or not it will live up to your expectations.
Hitting a wall can bring about discouragement, but it doesn't have to be a force to be reckoned with. Instead, you can find some comfort and clarity by stepping back from the planning process for a bit. You will definitely need a break from planning at one point or another. Take a week off and focus your energy on another task. Whether you use your time to clean your bedroom or take a weekend getaway to a nearby town, occasional breaks are wildly important to the process.
Write It All Down
One last bit of advice to keep in mind while preparing for your wedding is to keep track of your ideas. When you're taking a shower or driving around and running errands, you may have a brilliant money-saving idea for your big day. If you don't stop and write it down somewhere, it stands to reason the thought will be forgotten fast. Having somewhere to jot down your ideas, whether it be your phone or a notebook, can make a huge difference to the process.
Sticking to your budget can be tricky when planning for a wedding, but following the right steps can help you see the best possible results. Remember to give yourself breaks and write down any ideas that come your way to truly make the most of your ideas.