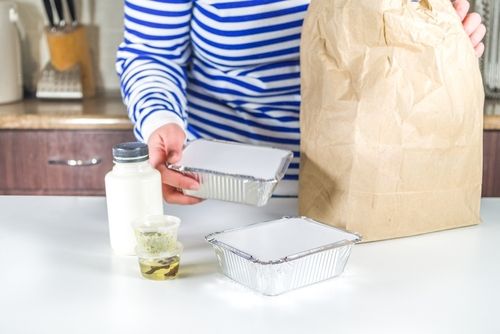 Condolences are best said in person, but there are times when you just can't make it to a funeral. Whatever the reason, when a friend or family member dies, you should make the time to honor the memory of the deceased. Show your support and love by following up with the family.
Send a Handwritten Note
Sending a card is a nice gesture. When you aren't able to attend the funeral, a handwritten note is a nice way to offer condolences to the family. If you're not sure what to write, start by offering your condolences. You don't have to say why you can't attend the funeral, but you can say that you're sorry to miss it. Don't be afraid to refer to the deceased by name. Point out something special that you remember about the deceased. Specific memories can be especially comforting during this time of grief. If you do want to help, offer a practical idea such as bringing dinner by one evening. Close with an expression that underscores your sympathy.
Send Food
Sending food when someone dies is a way to express love to the family. If you can't attend the funeral, wait a week or even two to provide a meal for the family.  You can pick up something from a local restaurant or the store or use an online service to deliver a meal. Choose foods that are familiar and comforting, as well as something easy to heat up. When a family is grieving, they may not even feel like eating, let alone cooking and cleaning up.
Make a Donation
Sending flowers or a plant is a common thing to do for a funeral, but many families get a lot of arrangements and don't know what to do with them. Instead, make a donation to a favorite charity that keeps the person's memory alive. Plant a tree in a local park. Ask a local non-profit if there's something that you can do as a remembrance. Make sure to identify your gift as a memorial. Ask if the organization will notify the family or if you should handle that.
Be Available for the Family After the Funeral
Many families get a lot of help when a loved one dies. After the funeral, a lot of that support fades away. If you're close enough to the family, offer to help by taking care of the children, running errands or cleaning. If you aren't close to the family, you could give a gift that is supportive of their needs or offers self-care. A meal subscription, a voucher for a house cleaner or a gas card make great gifts for someone who is grieving.
Create a Memory Album
If you have pictures or videos of the deceased that the family might not have, offer to provide those memories. You could create an album, either online or a physical photo album. Have one picture professionally framed as a special memory. Make one picture into a piece of jewelry. Make a video tribute that can be shared with others.
Send a Care Package
Care packages can be easy to put together, even when you don't know the family very well. Start with a selection of nice teas or coffees and some chocolates and nuts or other gourmet foods. Include a journal and pen or coloring books and a set of markers. A blanket or shawl can be a comforting gesture. Candles are another nice addition to a grieving family. 
Acknowledge the Loss
Condolences aren't only for the family who experienced the loss. Your acknowledgment of the loss is part of your grieving process. Don't feel bad if you can't attend a funeral when you follow up with sympathy for the loss of the deceased.