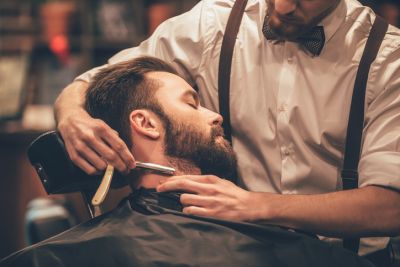 Getting pampered before the wedding isn't just the domain of brides alone. While scheduling hair, makeup, manicures and other beauty services are a common part of many brides' prenuptial planning, similar personal care options are less likely to be a priority for many grooms. However, there are several benefits to booking more than just a basic haircut before you don your attire and say, "I do." There are several possibilities available to you to help you look and feel your best before the big day arrives.
The Basics: A Cut and a Shave
You might already be planning to get a haircut prior to the ceremony. However, it's vital to ensure that you don't time your trim to take place too close to your wedding day. In fact, having a cut that looks "too fresh" will detract from your style, as mentioned in a November 2015 Vogue article. Manhattan stylist Joey Silvestera revealed that new haircuts tend to reach what he calls a "sweet spot," in which the style looks more natural and "lived in," around seven to ten days afterward. For this reason, it's best to schedule your date with the barber more than a week before your wedding. If you plan to upgrade your existing style at all, TheKnot.com recommends enacting a test run about a month prior, with a touch-up no later than a week before you walk down the aisle.
If you need to contend with grooming facial hair, you may want to consider a professional shave from a barber. These high-end versions are far more advanced than just the quick lather-and-swipe that you might perform on yourself in the morning. Moreover, it's a great way to put yourself in a relaxed state of mind on the day of your ceremony. Depending on where you go to get your shave services done, you can select either a basic or upgraded option. Either way, you'll receive detailed care and attention from a professional, using an old-school straight razor to slowly and carefully remove your stubble while applying shaving products that nourish your skin. Alternately, your barber may offer expert beard trimming services, helping you clean up your look before you meet your sweetie at the altar.
Give Your Hands a Clean, Professional Look With a Manicure
You might not have thought about it before, but there will be a great deal more focus on your hands on the day of your nuptials. After all, you'll be sliding a ring onto your future spouse's finger, dancing, eating cake and toasting your new life together. Furthermore, your hands may be forever memorialized in wedding day photos. So why not make sure that they appear impeccably groomed? A basic manicure involves trimming and shaping your nails, along with the cleaning up of your cuticles for a neater look. You might opt for a more advanced version, which can also involve specialized skin care services and a massage of your hands and arms. If you decide to get a manicure, it's a good idea to try one out the month before. Ask your specialist for aftercare tips, and consider following up with another appointment a day or two prior to your big event.
A Few Final Words
Some men are selecting facials, waxing and other advanced options prior to their weddings. If you're new to this type of pampering, consider booking appointments a month or two ahead to try them out. Nevertheless, if you say "nay" to anything fancy, at least consider going for upgraded hair, beard and nail grooming. Think of them as well-deserved rewards for the months of scrupulous planning and agonizing over details. Not only that, you'll look smart and camera-ready for your ceremony and reception.