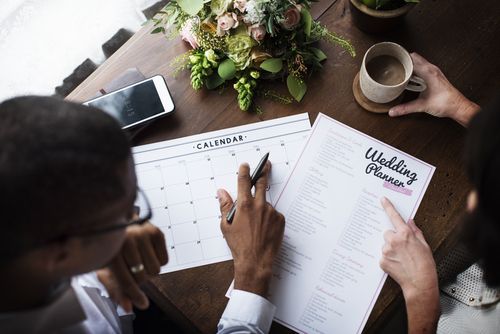 Getting engaged brings on a whirlwind of emotions: excitement and anticipation, plus a little bit of disbelief. "It's actually happening," you tell yourself. "I'm really getting married." But once you've announced the good news and started adjusting to your new reality, you realize that you have a wedding to plan with lots to organize: food, dessert, flowers, attire, music, invitations, and much more. Is your head swimming yet? Fortunately, the first four major wedding decisions you make will help all the little details fall into place.
Set Your Budget
Weddings may focus on love, but money makes the celebration happen. That's why your very first step involves taking stock of your available funds and setting a budget. The average American wedding costs around $33,000, but that figure can vary according to location, date, and guest size. Wedding Wire's Kim Forrest points out that you'll probably pay most of the wedding expenses, but you should find out if family members are offering to contribute. The Knot suggests having separate conversations with each family and adopting an honest, open approach.
After you know how much you've got to spend, you need to develop a spending plan and allocate funds. The Knot also provides a typical budget breakdown, including the top five expense categories:
Reception: 48-50%
Photo and video: 10-12%
Entertainment and music: between 8-10%
Flowers: 8-10%
Attire: 8-10%
Transportation, wedding rings, ceremony expenses, stationery, and gifts each account for between 2 and 3% of the average wedding budget. You should also designate a miscellaneous category, reserving around 8% of your budget for unexpected expenses. Keep in mind that these allocations may change as you set priorities for your event.
Choose a Date Range
Your wedding date can directly impact how much you'll spend on your celebration. Brides writer Jaimie Mackey mentions that wedding season can fall between late spring and late fall, depending on where you live and its typical climate. A July wedding in Ohio, for instance, would be considered off-peak. In Seattle, a July wedding falls during peak travel season. Remember that off-peak doesn't just apply to your chosen season. Breakfast and lunch weddings are less expensive, as well as Sunday or weekday nuptials. Of course, you'll need to weigh the pros and cons. Off-peak dates and times may result in less favorable weather and lower guest counts.
Find Your Guest Count
It's no secret that your guest count also affects how much you spend on your wedding. You'll also need this number when you're shopping for your venues, catering providers, invitations, cakes, and other essentials. In another Wedding Wire piece, Kim Forrest describes how large and small guest counts impact your event's logistics. There are benefits and disadvantages to both, so you'll need to consider those carefully. Smaller numbers translate into more venue choices and fewer expenses, but you may also struggle with narrowing your guest list and family members who'd hoped for invitations. Larger weddings cost more and limit your location options, but you won't stress about restricting your numbers.
Determine Your Priorities
Besides money, dates, and numbers, your wedding vision plays a significant role in your event. These four factors can be closely interconnected, influencing each other during the planning process. An elegant Roaring Twenties theme may call for a large ballroom, more guests, and a bigger budget. If you want to encourage dancing at your reception, you could hire a DJ, rent a dance floor, and choose appetizer stations over a plated sit-down dinner. Courthouse nuptials may call for a much smaller guest list and a low-key reception.
Wedding planning relies on a huge collection of details, but important decisions dictate how you design your big day. Determining a budget, date, guest count, and vision are all key to managing the details and creating an event you'll love.