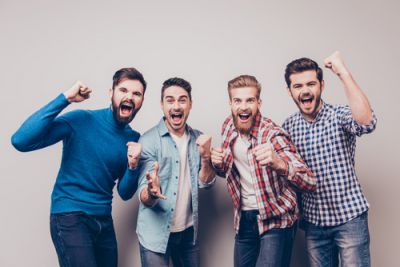 Budgeting isn't just for weddings. Although the average American nuptials cost between $29,000 and $45,000, it's not just the couple and their families who pay big-ticket prices. You may be surprised to learn how much it can cost to throw a shower or pre-wedding party. If you're planning these events, a few wise practices can help you avoid breaking the bank.
Counting the Cost
To understand what's going on, it's important to put these celebration costs into perspective. Wedding Wire's Kim Forrest reveals that the typical bachelorette party attendee spends about $350, while bachelor partygoers drop $550 per person. Yet estimates from CNBC's Kelli B. Grant are even higher. Bachelor party guests spend $738 for in-town bashes and $1,532 on destination affairs, while those at bachelorette celebrations forked over $472 and $1,106 respectively.
As for showers, estimates of their expenses can vary. A November 2014 U.S. News and World Report piece placed attendee costs at between $15 to $40 per person. However, Loverly says that wedding party members can expect to shell out $50 to $100. These parties may not be as pricey as other pre-wedding bashes, but every little bit can add up.
Try These Money-Saving Moves
Fortunately, planning an inexpensive and fun get-together isn't that hard. Scoring major items on the cheap or shaving off a few dollars from expenses in multiple categories can help you save big. Writing for Loverly, Stephanie Hallett offers several tips for wedding showers, while Bankrate's Mitch Strohm and Huffington Post's Brittany Wong suggest advice for the celebratory last hurrah before the big day:
Food and drink can comprise a large chunk of the party budget. Consider making them yourself or choosing wallet-friendly fare such as grilled items, barbecue, or picnic dishes.
Keep celebrations local and limit them to only one day.
Book a cheap or free venue. Beaches, backyards, and parks work well for picnics and barbecues, but don't discount bowling alleys, skating rinks, arcades, breweries, wineries, or other low-cost options.
Choose inexpensive entertainment. Strohm and Wong recommend activities such as karaoke night, bowling, golf outings, poker tournaments, or backyard movie showings.
Consider skipping prizes at your wedding shower, and don't worry about gifts for the pre-wedding party. These can drive up both your expenses as a host and the cost of attendance for your squad. If you want to forgo gifts, make sure that you and your wedding party members agree to do so.
For showers, send electronic invitations. Many digital invitation providers have beautiful and stylish designs that you can personalize for your event.
Constructing Your Budget
Once you have some ideas in mind, your next step is crafting a budget for your party. The process isn't much different than budgeting for a wedding except that you're working on a much smaller scale. There are many helpful tools available, including Evite's party budget estimator. Even so, you shouldn't draft a spending plan without doing your homework first. Get price quotes for everything: food, drinks, venue rental, and other key items. Don't omit details such as pricing for admission tickets, movie rentals, games, or anything else you need for the party. After you get these estimates, you'll have a much better idea of how much everything costs and can adjust your spending plan as needed.
Showers and pre-wedding parties are significant events before the happy couple ties the knot. They offer opportunities for fun, camaraderie, and lasting memories. At the same time, they can also take a big bite out of attendees' wallets. Their time length and location affects their price tags, but expensive activities and extras can also impact how much friends and family will pay. Remembering these important factors as you plan can help you host an event that's affordable for everyone.