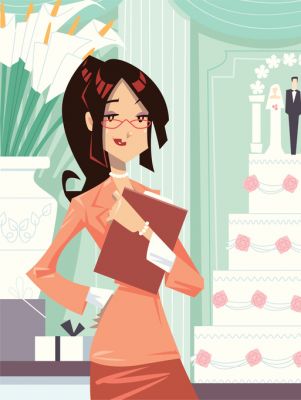 Just like other major events, formulating a timeline is essential to planning an organized wedding celebration that you and your guests will enjoy. There is no shortage of sample timelines on the internet that you can use for your ceremony, your reception or the entire day. However, observing some best practices can prove useful as you're crafting schedules for your big event.
Don't Start at the Time Listed on Your Invites
While offering some sage wisdom for your wedding-day schedules, Brides contributor Kristi Kellogg emphasizes that your ceremony should start 15 minutes later than the time printed on your invitations. Guests may run late due to a variety of reasons, and you want to make sure you don't cause someone to miss the magic moment. Furthermore, it will allow your invitees plenty of time to find seating without feeling rushed.
On the other hand, you might contend with unique planning challenges if your crowd tends to hold more relaxed attitudes toward punctuality. You may try to factor this into your planning. Alternatively, you might stress to your guests that you'll be starting close to the listed time on the invites. At the same time, encourage them to arrive in a timely fashion to avoid the festivities commencing without them.
Schedule More Time for Religious Ceremonies
Brides writer Jamie Mackey reveals that most nuptial ceremonies last between 20 and 30 minutes. Moreover, secular ceremonies can run a little shorter while religious celebrations might last longer than the average. For instance, a Catholic wedding might need anywhere between 40 minutes to an hour, depending on whether a full Mass is included or not. If you're uncertain about your event's time length, consult with your officiant for an estimate.
Include Travel Time Between Venues
As you build your event timeline, don't forget to consider packing in some travel time if your wedding is split between two sites. Depending on how far apart your ceremony and reception venues are, you may need to work in up to an hour just in case traffic or weather causes any snarls along the way.
Allow Plenty of Time for Wedding Photos
Typically, most couples have their wedding pictures snapped prior to the ceremony. It's wise to start taking these around two hours before your listed start time, and you'll want to budget about 90 minutes for your photo session. In her article at A Practical Wedding, Elizabeth Clayton makes additional suggestions for making the most of your special day's photo ops:
Work in a 15-minute mini-shoot around sunset for just you, your spouse and your primary photographer
If you must postpone photos until after the ceremony, schedule your pre-reception cocktails for between 90 minutes and two hours
Have extended family pose for pictures first, followed by your immediate family and wedding party members, and then you and your spouse last
Don't Schedule Dessert Too Late
Among the practical advice Clayton dispenses, she also proposes not waiting too late to serve dessert. Whether some guests are elderly, you've got invitees who left their kids with a child care professional or you have introverts who want to go home and decompress, the post-dessert period is usually when they'll want to vamoose. Schedule your cake cutting no more than two and a half hours after dinner service begins.
If this is your first trip to the altar or if you feel less than confident about your organizational capabilities, you might feel anxious about putting the minor details together. Using a timeline template and remembering some important guidelines can help you schedule your special day. The end result should be an organized event that flows well, allows everyone to enjoy themselves and avoids causing extra stress for you and your sweetie.