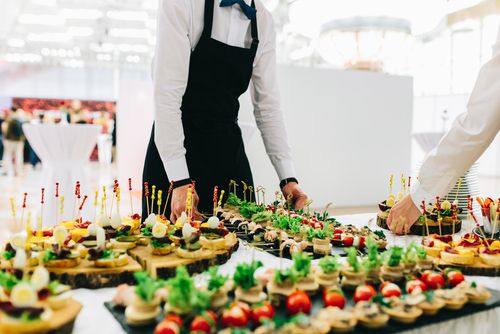 All wedding vendors encounter their share of difficult clients, but some prove to be over the top. Wedding Wire's Lindsay Tigar recounts some wild tales, including a bride who wanted her caterer to slaughter live chickens from her parents' farm and one couple requesting a 14-course meal with only three weeks' notice. You probably won't be "that" couple, but you may do other things that annoy your caterer. As you work with your chosen professional, keep in mind some common mistakes that you should avoid.
1. Failing To Research Your Venue
Caterers depend a lot on a venue's amenities, even if they're bringing food instead of cooking it directly onsite. Mashed's Kitty Jay explains that some foods don't work well when served at outdoor locations with no electricity, refrigeration, or kitchen facilities. Brides recommends shopping for both venues and caterers about 12 months before your target date. If you want a location that permits outside catering services, shopping for both simultaneously lets you choose compatible vendors. You can also design a menu that's feasible to serve at your chosen site.
2. Not Creating a Budget
Like any other service provider, a caterer will judge what it can do for you based on your budget. Bon Appétit's Rochelle Bilow stresses the importance of having your budget ready before you search for food services. Your reception's venue, food, beverage, cake, and rental expenses comprise about half of your wedding's final costs. Prices per plate can range between $20 and $100, so be realistic as you shop. If you only have $10,000 available to spend, for instance, a five-course meal for 150 guests probably won't be feasible.
3. Relying Too Much on Pinterest
Social media sites like Pinterest can offer a lot of wedding planning inspiration, but Kitty Jay reveals how professional food stylists craft some of those stunning photos. That mile-high naked cake that you fell in love with may be composed of foam, superglue, paint, plastic fruit, and shaving cream. Also, recreating elaborate dishes and desserts could cost far more than you can afford. You don't have to ditch Pinterest altogether, but keep your expectations realistic. Your caterer may be able to suggest better alternatives with similar flavors and ingredients.
4. Designing the Entire Menu Around Special Diets
Following a paleo diet is one thing, but expecting your guests to eat it is quite another. Both Jay and Bilow suggest a balanced approach to incorporating special diets into your reception menu. Work with your caterer to design a diverse spread: one that accommodates dietary needs but still offers plenty of options for your crowd. Keep in mind that some special diets can be better adapted to an entire menu than others. Everyone can eat a kosher or halal meal, but feeding both vegetarian and meat-and-potatoes guests could get a little tricky. Wedding Wire's Whitney Teal offers suggestions for catering to a mixed crowd with both veg and non-veg options.
5. Underestimating Your Staffing Needs
Chances are, you're not a caterer. Even if you are in the foodservice industry, you could still grossly miscalculate how many servers, bartenders, and support staff you need for your reception. Don't try to shave costs by asking your caterer to use fewer workers. Instead, pick another area to economize. Your caterer and guests will thank you.
Weddings are both fun and tricky to plan. If you feel like you're spinning half a dozen plates on sticks, you're not alone. That's why it's crucial to collaborate with vendors, especially your caterer. Just as it's your catering company's job to create and serve delicious food, it's also your job to trust its advice and expertise. Mutual respect, clear communication, and realistic expectations are key to bringing your wedding vision to life.